Automating Your Conflict Minerals Program: Build or Buy
Since 2010, the Dodd-Frank Act Section 1502 has required companies publicly traded on the US market to disclose the presence of conflict minerals in their products. In January 2021, the European Union passed a similar law, although the scope expands beyond the Democratic Republic of Congo and adjoining countries.
Armed groups in the DRC and neighbors are known to profit from the mining of highly sought-after minerals for which demand has greatly increased over the last decade: tin, tungsten, tantalum, and gold – called the 3TG. Not only is the trade funding conflict, but it is also linked to human rights abuse, including forced child labor.
Complying with the conflict minerals regulation means working toward supply chain transparency, which is hindered by the complexity of the minerals sourcing network.
If you are subject to SEC Dodd-Frank 1502, you know how time-consuming it is to collect smelter data, verify it, and compile the relevant information into a disclosure report. If you are just starting a conflict minerals program, you may not have a clear picture of the many steps involved. Ultimately, tracking minerals' origins and tracing their journey throughout the supply chain can be impossible without automation.
The question is, should you build a compliance program in-house or outsource to a third-party software provider?
Keeping The Automated Workflow In Check
What follows are the foundations of a robust conflict minerals program.
Conducting a Reasonable Country of Origin Inquiry (RCOI)
Conducting a Reasonable Country of Origin Inquiry (RCOI) is the very first step toward conflict minerals compliance, and the responses you gather will determine how lengthy the process will be. If suppliers are not able to declare that their products do not contain any of the 3TG, or if the information has been flagged as incomplete or incorrect, your process will have to include extra steps.
Integrating the OECD Due Diligence Guidelines into the program will help highlight such problems.
Data Collection And Transfer Of Information
Smelter and refiner information is collected via the Conflict Mineral Report Template (CMRT), a document that standardizes information such as name, country of origin, details of minerals, and sourcing policies suppliers may have in place.
Ensuring suppliers at every tier of the supply chain receive and complete the CMRT is essential. A centralized platform where suppliers can directly access the document will allow the process to work upstream and provide data on an ongoing basis.
Through online access and automation, you benefit from increased supplier engagement and simplify data input and aggregation.
Smelter Verification
Over 400 known smelters and over 17,000 smelter aliases have been acknowledged worldwide. Name variations and spelling discrepancies lead to inaccurate data and confusion, which can in turn impact the veracity of your disclosure.
A critical feature of your conflict minerals program is smelter verification. Cross-checking against the list of known smelters and the ability to identify and merge aliases ensures you work with clean, verified data. A flagging system is also necessary to reveal high-risk smelters and promptly take the necessary remediating action.
Streamlined Reporting
Built-in data verification is a must-have to gain an accurate view of your supply chain. Once you have validated all the relevant information, you want to roll it up seamlessly into a report without the hassle of manual analysis.
Conflict minerals disclosures may be a yearly event, but the process still takes months to complete. Using time and human resources on parts of the process that can be automated is a waste you don't want to incur.
Managing Changes And Updates
You'd be hard-pressed to find a regulation that doesn't change. What is required of duty holders today may be outdated or amended in the future. Forms and templates are regularly updated, as well. For conflict minerals, the most recent occurrence of this was an update to the CMRT 6.1 as of April 28, 2021.
Not to mention the possibility that other minerals may be considered worthy of due diligence and added to the scope of conflict minerals compliance, such as cobalt and mica.
Your compliance program should be flexible enough to sustain modifications to meet regulatory requirements as they evolve.
DRC Conflict Minerals Compliance Program: to Build or to Buy?
Before we discuss the merits of in-house vs third-party conflict minerals programs, let's look at the flowchart the SEC released in 2012 when adopting the program. Although it has not been updated since then, it is still a valuable tool to grasp the scope of a company's responsibility and the steps to take in the due diligence process.
Securities and Exchange Commission Flowchart Summary of the Conflict Minerals Disclosure Rule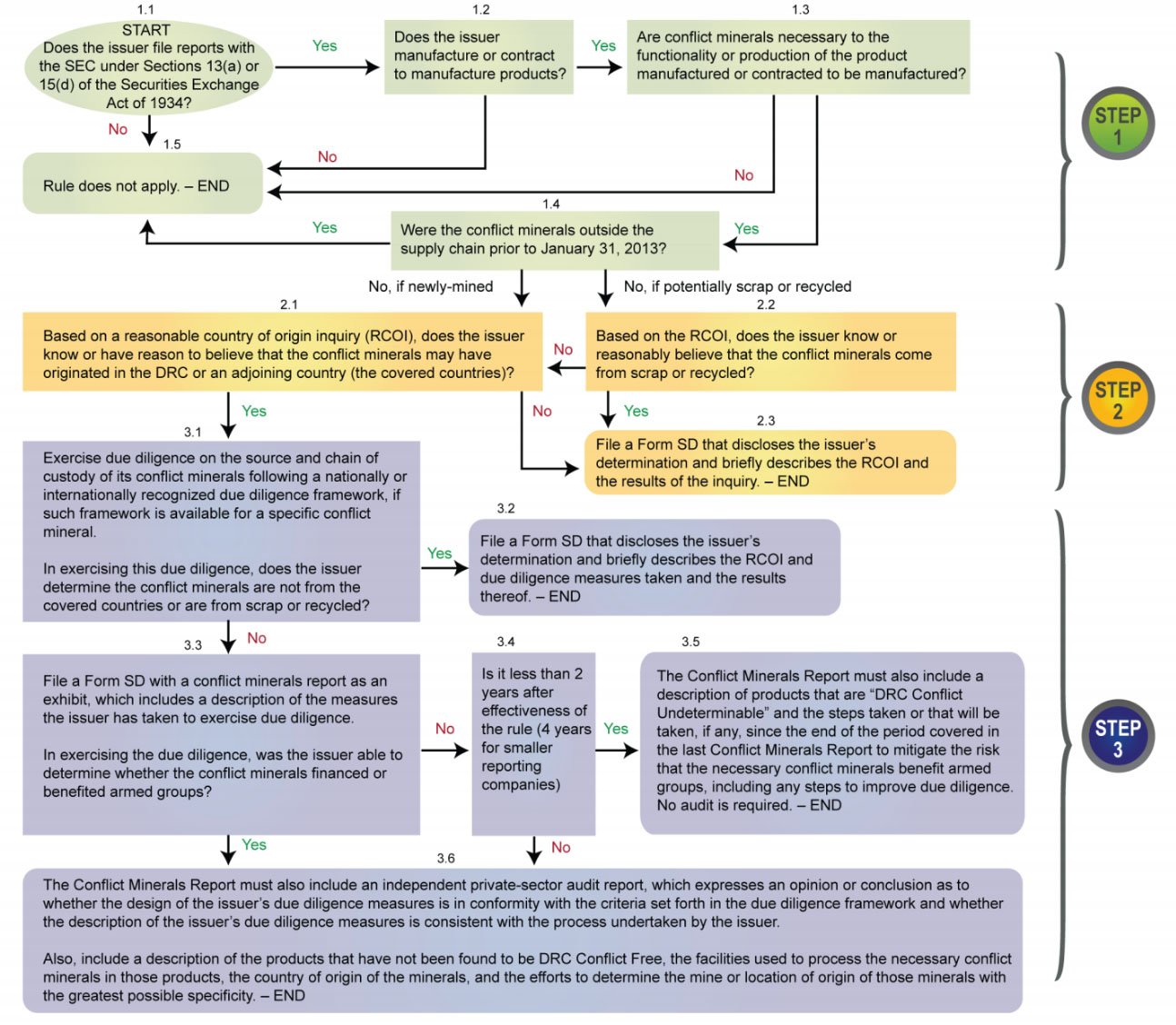 To answer the question without bias and as pertinently as possible, you should consider your compliance needs as a whole. Chances are your business falls in the scope of several programs. Should you build a solution for each?
Even if you are looking at conflict minerals only, multiple factors are to be taken into consideration:
Building from scratch takes time.
The project can be very costly.
You need to dedicate staff to manage and update.
On the other hand, concerns like confidentiality could play a role in deciding, as would the question of flexibility. Most third-party software solutions are built as a one-size-fits-all template. If your company has specific requirements and needs for functionalities, outsourcing may prove limiting.
At Source Intelligence, we've developed the only complete conflict minerals program on the market. Our industry-leading Conflict Minerals program automates the entire process for both the US and EU regulations that include the features necessary for a hassle-free process:
AI document verification
Data Quality Control (QC) process for accuracy, plausibility, consistency, gaps, and reasonableness
Smelter verification against published lists and our exclusive database
Automated RCOI requests with unmatched response rates
CMRT collection and aggregation of relevant information into a clear and concise report
24/7 multilingual support so nothing gets lost in translation
Unlike other providers on the market, Source Intelligence offers a solution that we can affordably customize to your specifications.
Your business needs are unique and so is the solution we provide to help you achieve supply chain transparency and compliance. Request a demo with one of our conflict minerals experts today to see what our solution can do for you.