Could Cobalt Be A New Conflict Mineral?
Cobalt is highly valued as a key component of lithium batteries, jet engines, cosmetics, magnetic steels, to name a few. Current estimates show that nearly 70% of the world's cobalt production derives from mines in the Democratic Republic of the Congo (DRC).
The US regulates the use of conflict minerals and similar laws are going into effect in the European Union starting in 2021. China has also issued guidelines for the ethical sourcing of minerals.
Conflict minerals are referred to as "3TG," which are columbite-tantalite, also known as coltan (from which tantalum is derived); cassiterite (tin); gold; wolframite (tungsten); or their derivatives; or any other mineral or its derivatives determined by the U.S. Secretary of State to be financing conflict in the Democratic Republic of the Congo or an adjoining country.
Even though cobalt is not currently on the list of regulated conflict minerals, it's on legislation's radar as severe human rights issues arise.
Why Cobalt Could Become a New Conflict Mineral
Although many cobalt mines in Africa are using compliant practices, there are still many that are not. Sourcing from the wrong supplier could mean financing modern-day slavery, child labor, and war crimes. The United Nations Children's Fund (UNICEF) reported that over 400,000 children were working as forced labor in cobalt mines in the DRC with no safety precautions in place. In 2019, a cobalt mine collapsed killing 43 workers, many of which included children as young as 4 years old.
Demand for cobalt is expected to rise due to the increase in battery production expected as the market for electric vehicles and other green-energy initiatives grows. Tesla, for example, built one of the world's largest battery production facilities in Nevada, called the Gigafactory, to accommodate its electric vehicle manufacturing. China is rapidly building electric buses, including a manufacturing plant in Lancaster, Calif. This increase in cobalt demand makes instating legislation all the more pertinent.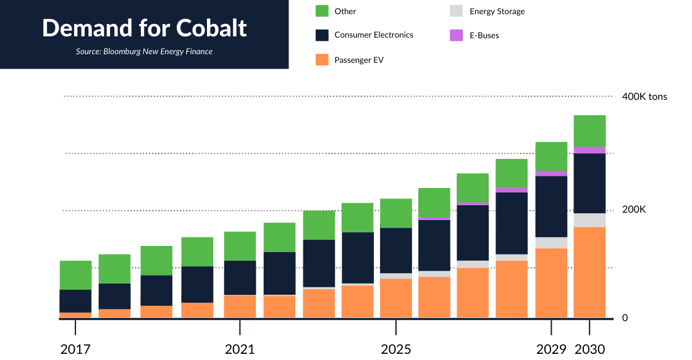 Regulations on Cobalt Mining
Although cobalt is not yet officially tied to regulations, many governments will start investigations and fine companies for using raw materials that are tied to human rights violations.
A handful of human rights groups are pushing to add cobalt to the list of so-called "conflict minerals" to be regulated and monitored for ties to human rights abuses and deadly wars in central Africa. One of these groups, The Cobalt Institute, focuses on reporting legislation updates, data on cobalt sourcing, and sustainability of production information on cobalt to the supply chain.
Many companies are leading efforts to promote ethical and responsible sourcing of cobalt. Mining companies are looking to institutionalize cobalt mines in central Africa to ensure proper mining techniques are followed and revenues do not end up in the hands of warlords. Tech companies are trying to take part in ethical cobalt sourcing as well, including Apple who announced they would be directly purchasing their cobalt from miners to ensure no human rights violations are involved.
However, these efforts will take time while world attention on cobalt mining and human rights violations is only expected to increase. In the meantime, more companies with battery products – including laptops, mobile phones, and automotive vehicles – will likely face greater pressure to disclose their cobalt sources.
How to Make Sure Your Cobalt is Ethically Sourced
Doing your part to ensure your cobalt is being sourced ethically doesn't have to be difficult. At Source Intelligence, we use AI-powered software to monitor your supply chain and locate areas where you may be at risk for human rights violations. We provide you the insight and data you need on your supply chain to make informed decisions.
To get started, request a demo to see what our AI-powered cobalt sourcing solutions can do for you!