Guide To Bill Of Materials (BOM) Management For Product Compliance
Odds are high that if you work in procurement or supply chain management, you've been exposed to many Bills of Materials (BOMs) throughout your career. However, there is a lot more than meets the eye when it comes to how BOMs provide product information and how it applies to maintaining compliance.
All too often, a lack of or incomplete BOM can be the difference between a successful product and one that is revoked from the marketplace due to a failure to comply with global regulations.
In this article, we take a detailed look at everything you need to know about BOMs and how you can effectively manage product compliance to keep your products on the market.
Introduction To BOMs
A Bill of Materials is a comprehensive list of parts, items, assemblies, and other materials required to create a product and instructions on how to make it. Think of a BOM as a shopping list of parts and a recipe of how to put them together to build a final product or assembly. A BOM is used in many different departments throughout a product's lifecycle and development, including engineering design, purchasing, and manufacturing.
For example, a BOM for a skateboard would include the hardware (screws, bolts, etc.), grip tape, deck, bearings, trucks, wheels, riser pads/risers, and everything else included in the assembly and makeup of the skateboard.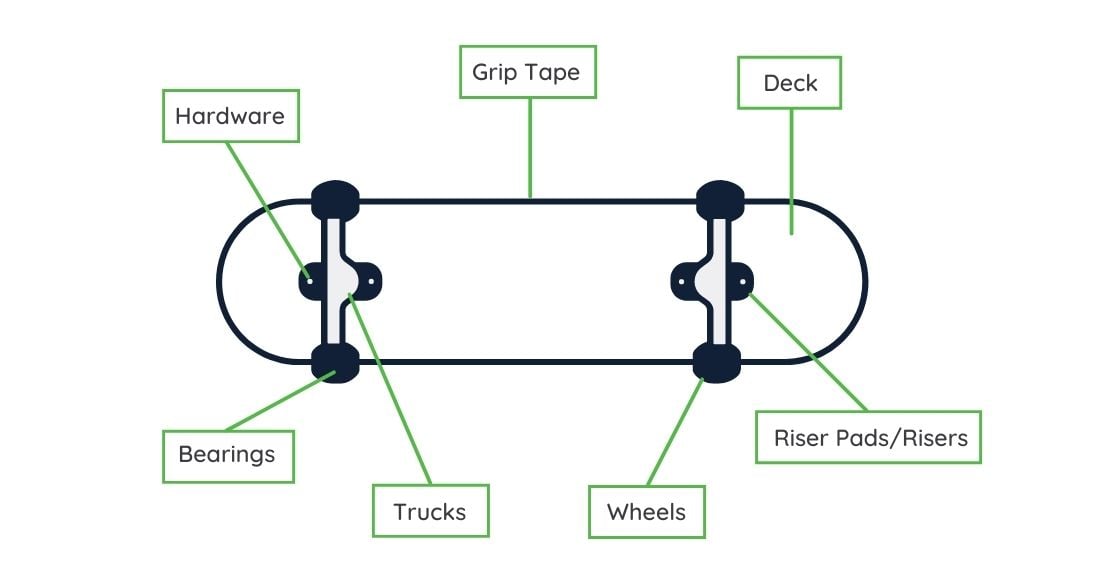 It's imperative that everything that goes into a product is listed in a BOM, including boxes, packaging, glues, solder, and other consumables. Often, the consumables (items used by all clients for a contract manufacturer or used across all products at a facility with variable weights) are forgotten. However, they are often the items that are regulated or contain restricted substances. Many manufacturers second guess the decision to include glue, wires, fasteners, and other non-modeled parts like labels and boxes in their BOM records. But if the part does not make it into the BOM, it might not make it into the product and could be missed when identifying applicable regulatory requirements.
Key Things You'll Find In A BOM
There are many different pieces of valuable information you'll find in a BOM. Some of the key items include:
Level Of Item: Designates where in the current processes the item relates to the overall top-level assembly
Name / Part Number: Unique identifier for items, raw material, equipment, and assembly
Manufacturer: Original designer or manufacturer of purchased component or item
Description: Detailed description of component or item
Quantity: Number of required items/parts; helps to calculate the expected costs and concentrations for regulatory purposes
Unit Of Measure (oz, g, ft): Designated length or weight of the specific item
Phase: Product Lifecycle Phase; used to determine design phase (test, launch, etc.) and product revision
Type Of Procurement And Cost: Indicates how an item is acquired (custom or purchased, etc.)
Reference Designators: Shows how an asset fits in a process of manufacturing
Documents: Engineering drawings, Pictures of Parts and Assembly Instructions, etc.
Alternates: Additional Manufacturers (Mfg) and Manufacturing Parts Numbers (MPNs) that meet criteria for substitution of the part (generally used for product shortages, etc.)
Notes: Extra information that may have been left out, including a historical ledger
Types Of BOMs
There are three key types of BOMs:
Single-Level BOM
Multi-Level BOM
Flattened BOM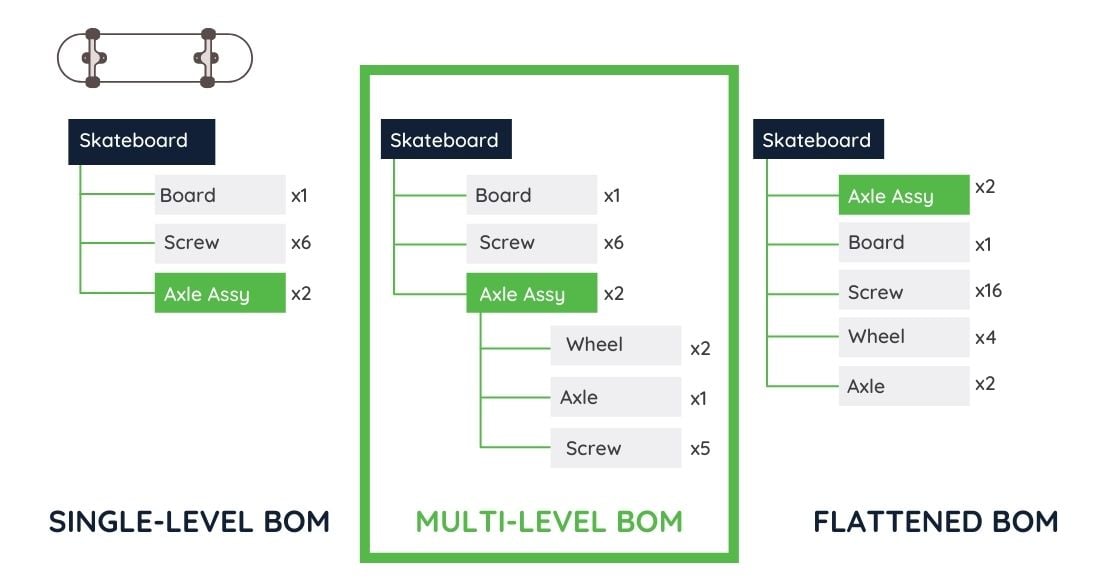 A Single-Level BOM is a simplified version that provides information on one level of assembly and treats all parts at the same level. As the most basic BOM type, it does not provide any details on sub-assemblies further down the chain. This BOM is often used for simple (one level) products.
A Flattened BOM is a Multi-Level BOM that essentially "flattens" the different sublevels so you can easily see the quantities of all parts of a BOM, regardless of where they fall in the levels of assembly. Because it does not have any information on how it is put together, it most closely resembles a shopping list of parts.
A Multi-Level BOM or Hierarchical BOM shows how each part or component fits in at every level of the product's assembly. It shows the makeup of child parts and / or sub-assemblies as well as where these are used in the product. This type of BOM (sometimes referred to as an indented BOM) is preferred to determine product compliance and meet reporting requirements (like SCIP) since it will allow us to gather the pertinent information needed on a product and part.

Here is an oversimplified pictorial example of a multi-level BOM for a Complex Assembly: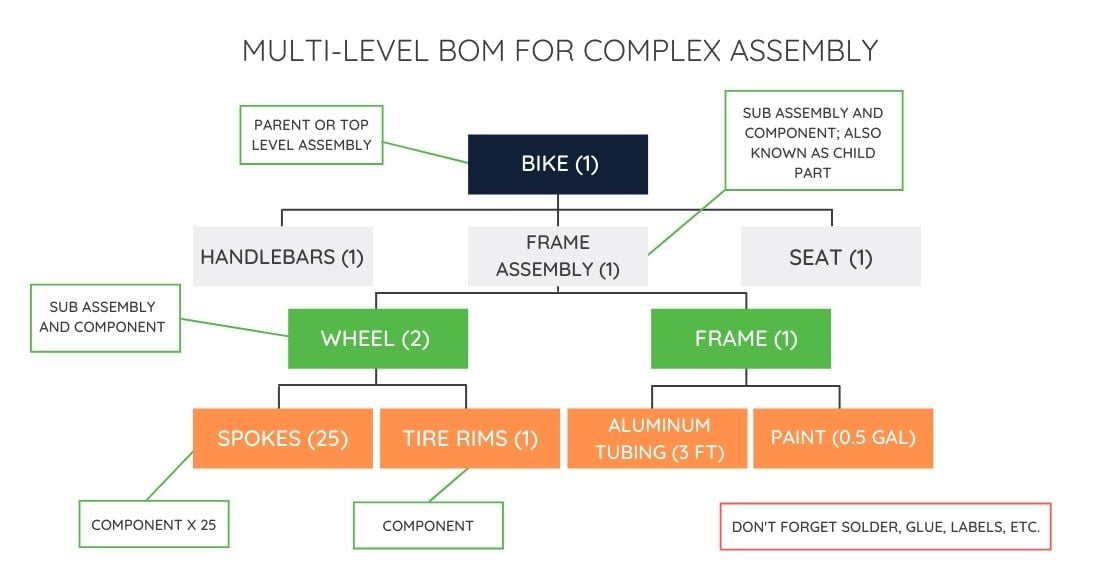 How Are BOMs Used For Product Compliance?
For product compliance, BOMs help businesses understand which suppliers they use to create their products (including Contact Names as well as other data for Restricted Substances (RS) & Social Responsibility (SR)) and identify specific parts in their products (RS). By providing visibility into a product's entire makeup, you are able to identify whether it includes substances that are restricted and require special reporting or submissions to regulatory bodies.

When determining which products are regulated, you will need to gather information on top assembly products and parts. Make sure the BOM includes:
Products / Top Assembly:

Hierarchical (or Indented BOMs)
Shows all parts and where they are in the assembly
Weight (Necessary for SCIP Dossier Submissions)

Parts:

Manufacturer (NOT distributor)
Manufacturing Part Numbers (Orderable Part Number from original supplier)
Quantity
Include consumables (glue, solder, etc.) and packaging
What Happens With Interchangeable Parts?
Many businesses may use multiple suppliers and alternate which ones they are using. The same part in question won't have the same MPN and may not have the same material composition even though they are interchangeable with regard to functionality. In terms of compliance, all possible vendors and the associated part numbers must be documented.
It's the businesses' responsibility to record any changes to manufacturers of parts so they can re-evaluate product compliance. This is typically tracked by the business' internal parts number, so compliance for all manufacturers for the multiple MPNs can be identified.
It's important to note that there can be multiple MPNs associated with each internal parts number. For example, if there are 5 MPNs associated with the same internal part number, you would need to get the data for each of those. For example, the same internal part number will list an MPN for a capacitor with leaded glass and another shows an aluminum capacitor. The material composition determines which regulations apply, so the leaded capacitor will need to have an applicable exemption for EU RoHS and the SVHCs must be declared, while the aluminum capacitor may not need either. So in order to maintain compliance, it is essential that all possible suppliers and associated MPNs that may be used at any given time be tracked and recorded.
After you gather data on all possible MPNs, one approach is to declare the worst-case scenario. Oftentimes, the multiple suppliers' parts will be mixed together and businesses won't know which one they're using at a given time. Most regulatory specialists will declare the worst-case scenario. If there are two resistors that are used, one with a Substance of Very High Concern (SVHC) and one without, it can be a good strategy to declare the one with the SVHC to cover EU REACh Article 33(1) reporting requirements. Using the parts with the highest risk compliance can help ensure you perform your due diligence and address any concerns.
Automating Product Compliance With Source Intelligence
It's a long journey from start to finish for enterprises needing to go through the tiers of their supply chain for regulatory compliance. Source Intelligence's AI-powered platform can streamline and automate this journey while filling in the gaps along the way.
With compliance solutions for nearly 100 different global supply chain regulations, our passion is using technology to make compliance affordable and accessible to businesses of all sizes. Our compliance solutions provide a one-stop-shop for all your regulatory needs from Obsolescence Management and REACH & RoHS, to Conflict Minerals and ESG.
Stop wasting valuable time and resources on manual supply chain compliance. Request a demo to see what our customizable platform can do for you.