As of July 2019, the EU expects all companies selling Electrical and Electronic Equipment (EEE), cables, and spare parts in the European market to comply with the RoHS directive.
Since its introduction in 2003, the directive on Restriction of the use of certain Hazardous Substances (RoHS) has evolved and can now be considered a comprehensive regulation that fully integrates into Europe's program to protect human health and prevent risks to the environment, conduct safer waste management, and align with other EU legislation.
This article answers 5 of the most common questions about EU Directive 2015/863 (RoHS 3) compliance.
1. What Is the Scope of RoHS?
RoHS affects all electrical and electronic equipment from mobile devices to 3D printers, including sub-assemblies, components, cables, and spare parts. Over the last few years, the regulation has periodically extended to new product categories: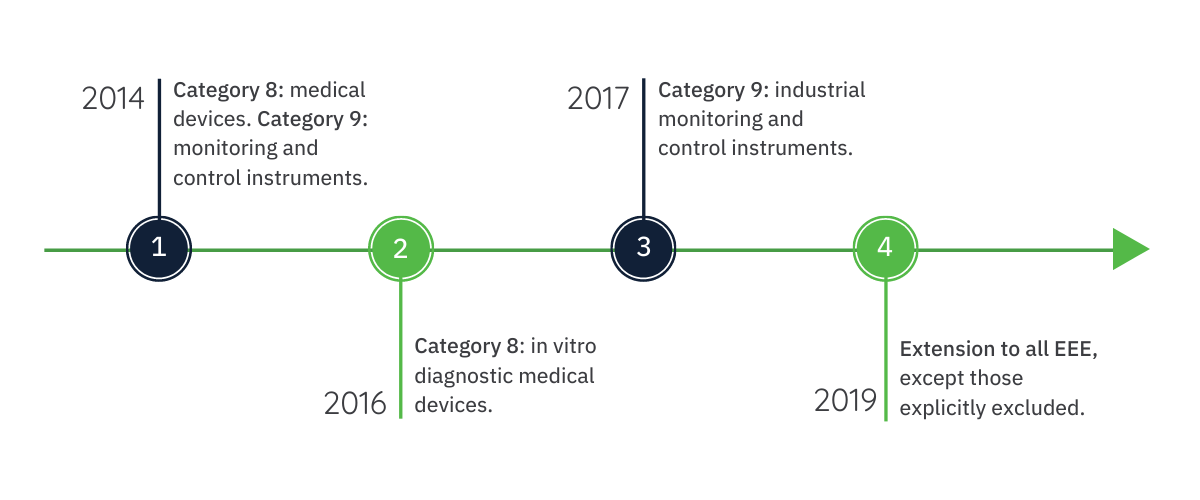 The directive specifically restricts ten substances (heavy metals and phthalates):
Cadmium (Cd): < 100 ppm
Lead (Pb): < 1000 ppm
Mercury (Hg): < 1000 ppm
Hexavalent Chromium: (Cr VI) < 1000 ppm
Polybrominated Biphenyls (PBB): < 1000 ppm
Polybrominated Diphenyl Ethers (PBDE): < 1000 ppm
Bis(2-Ethylhexyl) phthalate (DEHP): < 1000 ppm
Benzyl butyl phthalate (BBP): < 1000 ppm
Dibutyl phthalate (DBP): < 1000 ppm
Diisobutyl phthalate (DIBP): < 1000 ppm
Any EEE placed on the market of EU member states that contains any of the listed substances above the concentration threshold is deemed non-compliant.
2. What Are the Differences Between the Three Versions?
RoHS 1
RoHS 1 was introduced in 2003 and originally listed six heavy metals, flame retardants, and ethers, and requires they be substituted by safer alternatives.
RoHS 2
RoHS 2, also known as RoHS-recast was more of an administrative and legal revamp of the original directive, increasing clarity, simplifying regulatory conditions, and focusing on risk prevention, especially in electronic waste management and disposal.
Another aspect legislators focused on was a better alignment with other EU regulations such as the REACH regulation and the ErP directive to lighten the administrative burden and be more cost-effective by eliminating redundancies between agencies.
Lastly, the directive introduced mandatory CE marking. Before marketing a product, companies are required to produce documentation outlining their compliance procedures. EEE shall be traceable (product line, batch, serial numbers), to mitigate non-conformity without discriminating upon compliant products.
To learn more, check out our white paper: An Overview of RoHS 2
RoHS 3
The third version of the directive introduced four new substances (bringing the list to ten restricted substances): bis(2-Ethylhexyl) phthalate, benzyl butyl phthalate, dibutyl phthalate, diisobutyl phthalate.
3. Is RoHS 3 Linked to any other Program in Europe?
While European compliance programs stem from similar objectives, they differ in scope and are not interchangeable.
For instance, REACH (Registration, Evaluation, Authorization, Chemicals), requires you to register chemical substances. RoHS 3 compliance, on the other hand, requires you to eliminate them if above a certain concentration level and work toward replacing them with safer substances.
As mentioned above, RoHS 2 aimed to better align with other compliance initiatives within the EU. From a business's perspective, the advantage is that centralizing documents for one or more global programs can contribute to simplifying the data collection process for another.
RoHS 3 compliance comes in conjunction with the WEEE compliance (Waste from Electrical and Electronic Equipment.) The WEEE Directive 2002/96/EC covers treatment, recovery, and recycling of EEE. All applicable products must pass WEEE compliance and carry the "Wheelie Bin" sticker.
4. Do I still Need to Comply if I Don't Sell EEE in Europe?
You may not sell EEE in Europe directly, but you may be selling components to manufacturers that do, in which case you would still have to comply. As a supplier, you would have to provide your clients with all relevant and applicable documentation regarding the restricted substances and their presence in your products.
Beyond reaching RoHS 3 compliance when doing business directly or indirectly with the EU, bear in mind that several states in the US and various countries have adopted RoHS-inspired restrictive measures. Some directives even specifically prohibit selling certain products if these devices are restricted in Europe due to the presence of the listed ten.
5. How Does Source Intelligence RoHS Solution Help?
The list of restricted substances is fairly short so far, but you can expect it to grow. RoHS 2 includes provisions for the Commission to periodically review the list and offers member states the opportunity to propose new substances for addition.
The cost of non-compliance is very prohibitive: not only will your products be banned from the European market, but EU states have the authority to impose fines up to $15,000,000 (millions, you read correctly!) and a 10-year jail sentence is not out of the question. If they are taking compliance so seriously, why wouldn't you?
All the more reason to implement a state-of-technology program that streamlines data gathering and facilitates exchanges with your suppliers.
With Source Intelligence's RoHS compliance solution, you:
Compile a detailed product file, from technical documentation to test reports
Collect compliance data from your suppliers in the format they are best equipped to produce
Benefit from effective data management and centralized data
Leverage data analytics and extract insights into supply chain visibility and compliance gaps
Open flexible and effective communication channels between your teams and your suppliers, reducing reporting fatigue and administrative burden
Integrate all related compliance programs at the national and global levels so you don't miss critical intel and meet requirements.
Source Intelligence adds many cherries to top the compliance cake. With so many layers and subtleties, RoHS 3 compliance – or any compliance program for that matter – requires more than a SaaS solution. It requires a long-term partner and a dedicated team of experts willing and able to work with you regardless of time zones and language challenges.
How about we dive in and show you how easy compliance is?