Driving ESG Throughout Your Supply Chain
Executive Summary
Supply chain risk management is a crucial step in developing an effective, resilient business. A partner at Deloitte said it best:
"A business is only as strong as the chain of suppliers it works with. So leaders must recognize and work to understand the factors that promote strong risk management in the supply chain."
Traditional supply chain risk management focuses on identifying, analyzing, and addressing current and potential future vulnerable areas within your supply chain. It typically focuses on logistics-related activities, products (goods and services), or resources in the supply chain. While these are important parts of supply chain risk management, they do not take into consideration other critical factors, like effects on the environment, internal company governance, and social impacts on local communities. These areas may not have immediate and direct financial implications, but they have the potential to cause long-term insecurity. Including ESG factors in supply chain risk management increases the robustness and scope of the process, ultimately making it more effective.
Implementing and tracking ESG in your supply chain is a required step moving into the future, but it can be complicated. The lack of internationally accepted guidelines makes developing ESG tracking and reporting systems challenging. Additionally, ESG auditing can require extensive communication throughout your supply chain and time-consuming verification of received information.
Developing a good relationship with your suppliers and giving them the tools to succeed is a crucial step in successfully implementing this process. This can be achieved by telling your suppliers exactly what you need from them and providing them resources to learn and develop their own ESG systems.
In this white paper, we go into detail on the following topics:
Traditional Supply Chain Risk Management
How ESG Solidifies Risk Management
Nurturing ESG Goals Throughout Your Supply Chain
How to Empower Your Supply Chain to Succeed With ESG
What to Expect for ESG Documentation and Reporting
How Source Intelligence Can Help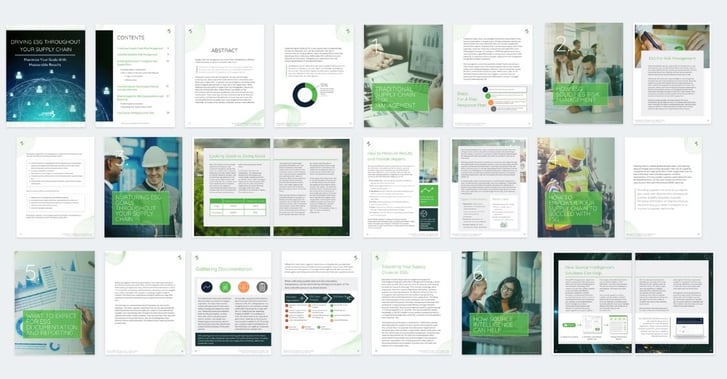 Download our White Paper to learn more: