Source Intelligence surveyed 9 Scope 3 Greenhouse Gas (GHG) experts to provide a well-rounded look at tackling the issue of tracking and decreasing the amount of carbon emissions in supply chains. We asked:
From your experience, what are the biggest reasons that businesses should track their Greenhouse Gas (GHG) emissions in the supply chain, and
What are one or more things they can do to effectively report on GHG and make an impact in carbon emission reduction in the supply chain?
1. Scope 3 Makes Up Most Of A Company's Carbon Footprint
"For many companies, Scope 3 represents the largest percentage of their total footprint. If a company doesn't know its Scope 3 footprint, it effectively does not care about the climate impact of its business. But even beyond the size of impact at stake, Scope 3 by definition is shared with suppliers, vendors, customers, and clients up and down the value chain. This provides a critical opportunity to influence others to take climate action, which can ultimately create even more impact than managing one's own direct emissions.
Reporting is only the first, albeit critical, step. Of course, it makes sense to focus on the 'hot spots,' where the carbon emissions and/or intensity are the highest. If those hot spots are also shared suppliers for other businesses, a company can make the most impact by joining forces with others to incentivize or even sponsor those shared suppliers in reducing emissions that benefit everyone throughout that value chain. Gold Standard's ValueChange program is a great way to do just that."
- Sarah Leugers, Director of Communications, Gold Standard; Twitter: @goldstandard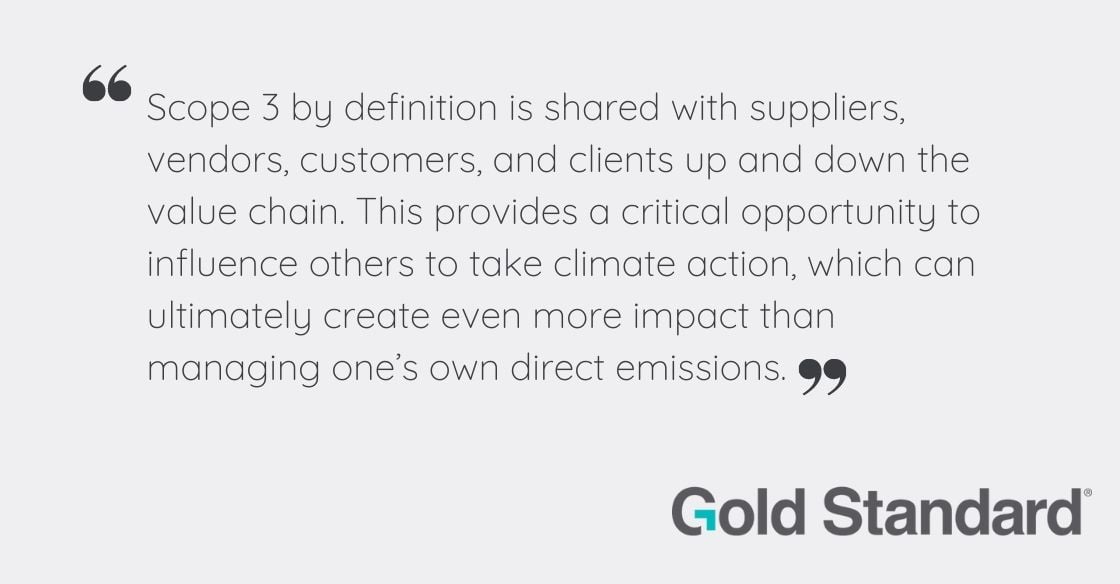 About Sarah Leugers And Gold Standard
Sarah Leugers is the Director of Communications for Gold Standard, working to mainstream ambitious climate action that can drive the transition to a climate-secure sustainable future.
Gold Standard was established in 2003 by WWF and other international NGOs to ensure projects that reduced carbon emissions featured the highest levels of environmental integrity and also contributed to sustainable development. They launched a best practice standard for climate and sustainable development interventions, Gold Standard for the Global Goals, to maximize impact, creating value for people around the world and the planet we share.
2. Tracking And Reporting On GHG Can Positively Impact Brand Reputation
"Association with less environmentally sustainable suppliers can undermine the credibility of organizations interested in differentiating their brands through environmental leadership. To protect their brands, organizations seek relationships with suppliers that 'walk the walk' alongside them by taking steps to be proactive environmental stewards.
Increasingly, customers and stakeholders are asking organizations to provide information on the life cycle emissions of the products and services that they procure. Organizations, therefore, need information on scope 3 emissions1 from suppliers to provide customers and stakeholders with a more complete picture of organizational emissions performance across the value chain.
Organizations are choosing to engage a small number of key suppliers that comprise 75 to 80 percent of spend as well as those that pose the greatest risk to financial performance or brand reputation if their emissions are not quantified and managed. Organizations often use GHG emissions questionnaires or databases to collect information.
Organizations that have conducted their own GHG inventories emphasize the need to keep the information requests simple and not ask questions that they themselves would have difficulty answering.
To build trust, organizations may consider initiating engagement with suppliers by sharing their success stories on how measuring GHG emissions saved money or enhanced competitiveness, as well as lessons learned, tools, and other resources that resulted in realized and potential benefits. This may help suppliers avoid being skeptical of measuring and reporting their GHG emissions to the requesting organization. Organizations may also want to consider collecting data through third-party programs that protect suppliers' confidential business information."
- Melissa Klein, Program and Communications Lead, Center for Corporate Climate Leadership, US Environmental Protection Agency (EPA); Twitter: @EPAclimatectr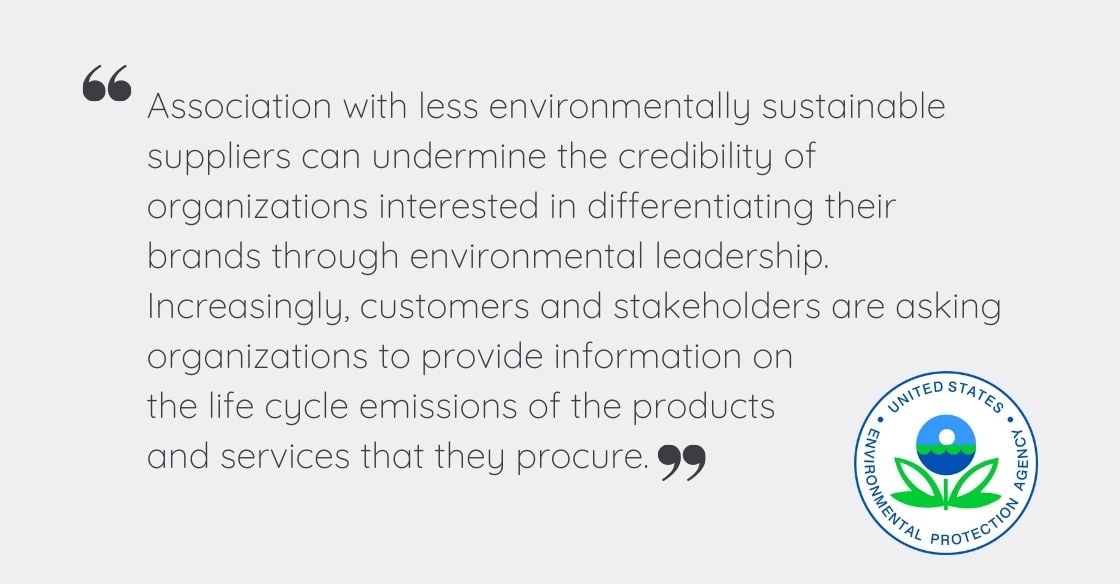 About EPA's Center For Corporate Climate Leadership
The mission of EPA is to protect human health and the environment through developing and enforcing regulations, giving grants, studying environmental issues, sponsoring partnerships, educating about the environment, and publishing information. EPA's Center for Corporate Climate Leadership serves as a resource center for all organizations looking to expand their work in the area of greenhouse gas (GHG) measurement and management.
3. Being In Line With The 1.5-Degree Target Lowers Operational Risk
"The biggest reason to trace GHG is to have a robust, sustainable supply chain. If there are (large) emissions in your supply chain that cannot be avoided, it will eventually mean that your business is at risk. By identifying the emissions in the supply chain now, companies can de-risk their operation, ensure future operations, and start working on the reduction of these emissions. In all cases, a reduction pathway that is in line with the 1.5-degree target of the Paris agreement will have the lowest risk.
To start making an impact, businesses can report their emissions and production chain emissions in their annual report accompanied by their strategy to reduce those emissions in the future. After they have identified the emitters in their supply chain, they can start the conversation with their suppliers about the alternatives and possibilities for reducing emissions to bring it in line with the desired reduction pathway necessary for the Paris agreement."
- Peter de Jong, Program Leader Of Sustainable Energy Production, Natuur Milieu; Twitter: @NatuurenMilieu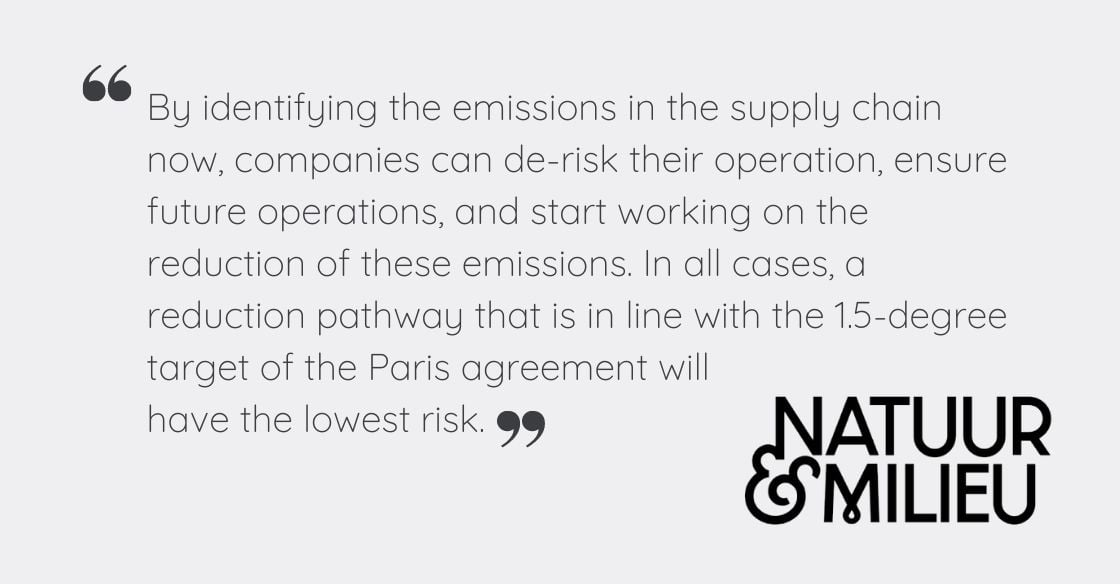 About Peter De Jong And Natuur Milieu
Peter de Jong is the Program Leader of Sustainable Energy Production at Natuur & Milieu. Peter works on nature-inclusive applications of solar and wind energy, on sustainable heat sources, and on the energy system of the future.
Natuur & Milieu is an independent environmental organization that believes in a sustainable future for all. A sustainable future for all, that is at the heart of Natuur & Milieu's vision. They work together with people, companies, and governments to make the market more sustainable with a focus on a climate-neutral society by 2050 and the restoration of biodiversity in the coming years.
4. Even Small Actions Can Have A Huge Impact When It Comes To GHG
"While Scope 3 emissions are the most challenging to measure and reduce given they're outside of direct control of the company, they can constitute for anywhere from 80% to up to 97% of a company's footprint, so it's incredibly important that an organization starts tracking and becomes aware of its carbon footprint in the supply chain. This gives an organization the basic knowledge and awareness to then allow for adjustments to be made to its business model or operations to reduce environmental impact. As a result, I've witnessed many companies re-examine product models and supply chains to reduce emissions-intensive actions such as reducing corporate travel, extending product life spans or reducing lifecycle emissions, increasing efficiencies in logistics, and more. The process leaves room for growth and makes sustainability a priority.
In order to effectively report on GHG, businesses of less than 500 employees can use Cool Effect's calculator for an easy and accurate accounting of the emissions of business operations. A large business needing to issue a sustainability report or provide public carbon accounting may want to consider a consultant. At Cool Effect, we believe that every action, no matter how small, has the potential to make a tremendous impact, and we always encourage companies to prioritize sustainability and emissions reductions."
- Blake Lawrence, Marketing Manager, Cool Effect; Twitter: @cool_effect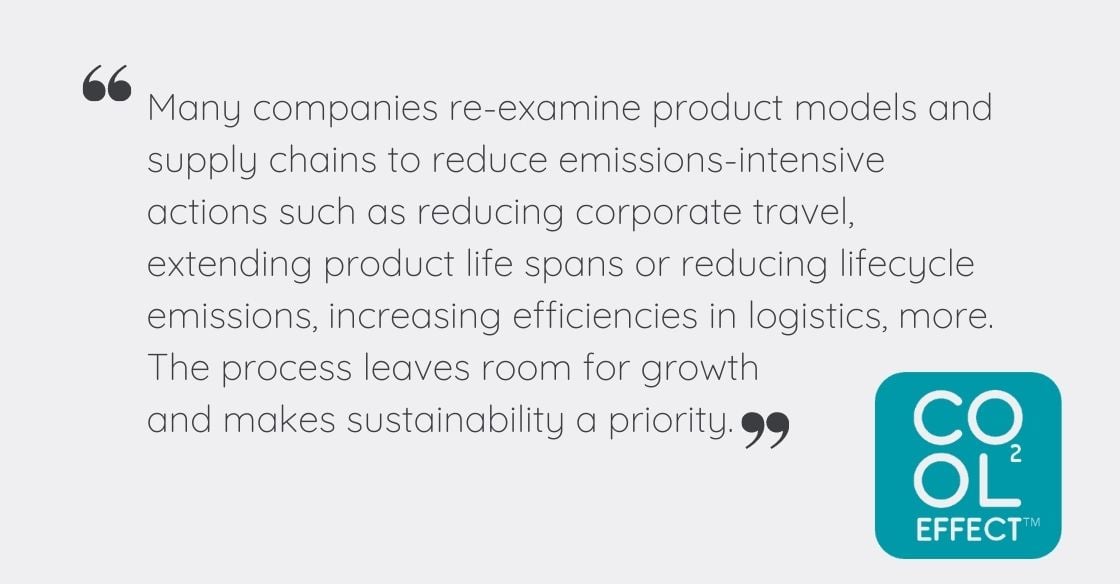 About Blake Lawrence And Cool Effect
Blake Lawrence is Cool Effect's Marketing Manager, which gives him a unique perspective on the fight against climate change, the role of carbon offsets and carbon projects, and a deep understanding of how Americans are stepping up to take action. Each day, Blake calls on his experience with data and social media to grow Cool Effect's retention programs and communicate with buyers. Additionally, Blake manages the growth of Cool Effect's loyalty channels and is always testing new ways to engage the community.
Cool Effect combines science, expertise, and transparency, to create a community built around one simple vision: give people the power and confidence to band together and reduce the carbon pollution that causes climate change.
5. Use Scope 3 To Show Both Direct And Indirect Impacts On Climate Change
"The biggest reason for corporations to track supply chains is to better understand how their decisions drive emissions in the production and transport of materials they use and make decisions based on that information on who they purchase from.
Being transparent in their scope 1 + scope 2, and separately including scope 3 is a good way for corporations to publicly show how much of the reductions they claim are because they are making changes in their direct energy use versus actions taken by others in the supply chain with whom they do business. This breakout type of reporting also allows the public to better understand where the reductions are happening."
- Rajinder Sahota, CARB Deputy Executive Officer for Climate Change and Research, California Air Resources Board (CARB); Twitter: @AirResources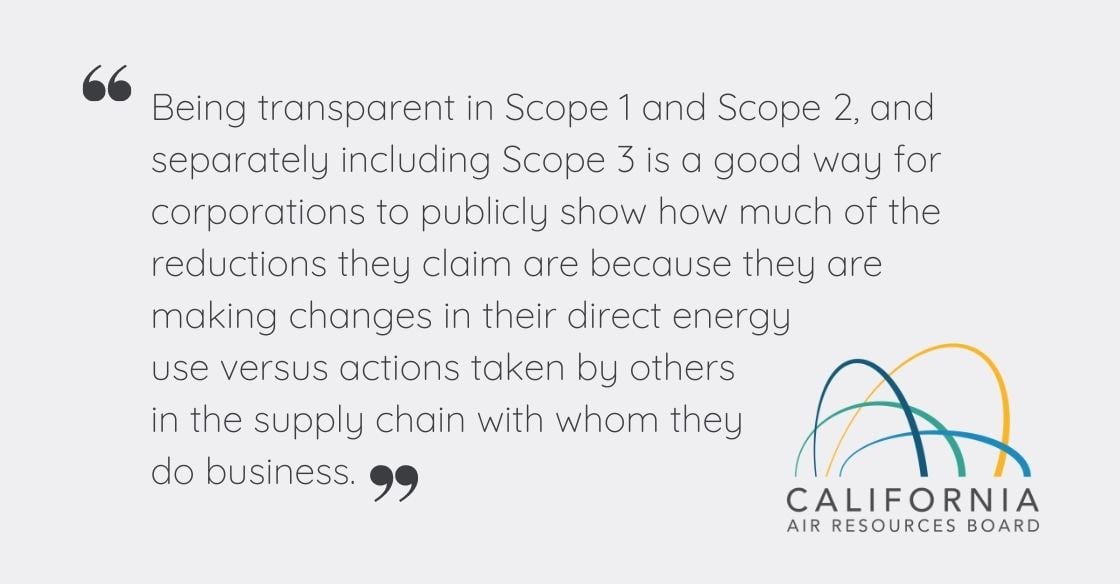 About Rajinder Sahota And CARB

Rajinder Sahota was appointed as the Deputy Executive Officer for Climate Change and Research in spring of 2021. She is responsible for directing CARB's scientific, technical, and policy teams as they develop and update the AB 32 Climate Change Scoping Plan to track progress and develop the pathways to achieve the state's climate targets. She also oversees the economy-wide Cap-and-Trade Program, Low Carbon Fuels Standards, energy and climate policy, fuels programs, and critical research to advance action to improve public health and environmental protection.
California Air Resources Board (CARB) is charged with protecting the public from the harmful effects of air pollution and developing programs and actions to fight climate change. From requirements for clean cars and fuels to adopting innovative solutions to reduce greenhouse gas emissions, California has pioneered a range of effective approaches that have set the standard for effective air and climate programs for the nation, and the world.
6. GHG Reporting May Require A Systems Level Change
"In terms of the importance of Scope 3 emissions, for many companies Scope 3 emissions will be the largest share of their total emissions and only focusing on Scope 1 and 2 leaves out the core of the issue.
Addressing climate impacts is going to require a systems level change which will require systems level analysis and taking a comprehensive view of emissions associated with a given business model, which Scope 3 has the potential to provide a more comprehensive estimate."
- Graham Forbes, Global Project Leader, Greenpeace USA; Twitter: @greenpeaceusa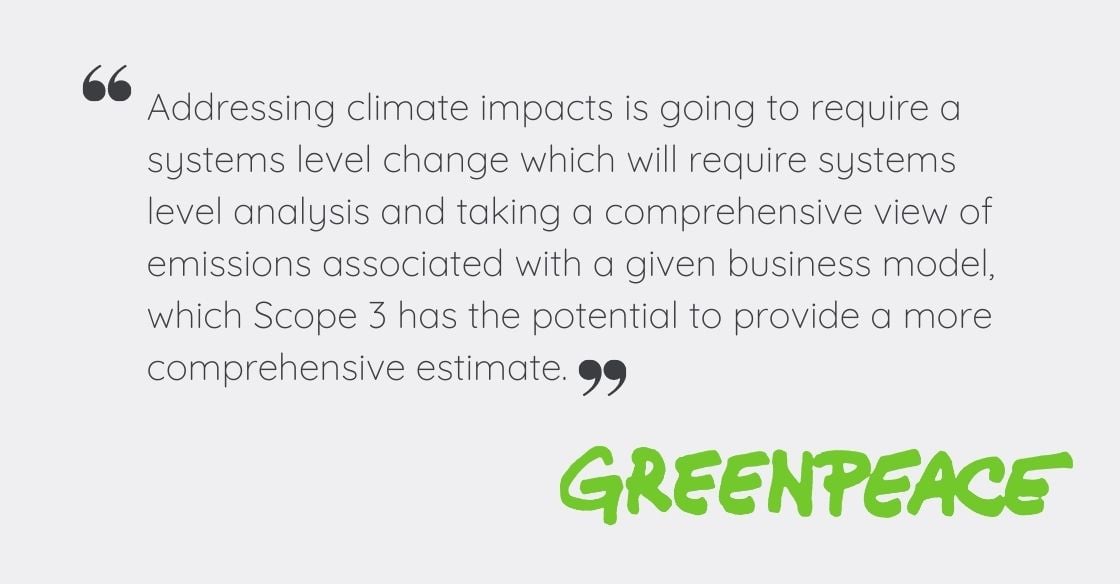 About Greenpeace USA
Graham Forbes leads Greenpeace's global plastics campaign that aims to stem the flow of plastic pollution into our oceans, waterways and communities by empowering people to hold corporations and governments accountable. He has over 15 years of experience leading successful campaigns on environmental, human rights, labor and social justice issues. Beginning his career as a union organizer with UNITE HERE, Graham has focused his professional life on bringing the environmental and labor movements together to win political and corporate victories that protect natural places and secure rights for workers.
Greenpeace is a global network of independent campaigning organizations that use peaceful protest and creative communication to expose global environmental problems and promote solutions that are essential to a green and peaceful future. Their committed activists and supporters have come together to ban commercial whaling, convince the world's leaders to stop nuclear testing, protect Antarctica, and much more.
7. It's Critical To Make GHG Goals And Plans To Meet Them
"You can't fix something if you don't understand the problem. If companies don't track and report their emissions throughout their supply chains, it's impossible for them to be able to set science-based emissions reduction goals and be accountable in their progress toward those goals to investors or other stakeholders.
If we want to meet or beat our climate deadlines, everyone needs to take the full impact of their business into account. Supply chains are critical: If you take overall climate impacts into account, a company's supply chain often accounts for more than 75% of its greenhouse gas emissions, according to the U.S. Environmental Protection Agency.
When companies make commitments that include their supply chain - and follow through on them - that creates a cascade of impacts as suppliers are also forced to step up, and that provides an opportunity for peer-to-peer learning. Meaningful impact depends on building both companies' and suppliers' capacity to act.
Companies should not only set targets that include Scopes 1, 2, and 3 emissions, those targets should be ambitious and include clear short- and medium-term milestones. They should remain accountable to those milestones through consistent and comprehensive reporting — some of the best frameworks for corporate disclosure include the Task Force on Climate-related Financial Disclosures (TCFD), the CDP Climate Change Questionnaire (CDP-CC) and the CDP Forests Questionnaire (CDP-F).
Other important strategies include prioritizing Scope 3 reductions in the areas of the value chain that have the highest greenhouse gas emissions footprint and rely on reducing absolute carbon emissions to meet their goals, rather than depending on offsets in areas where true reductions are possible.
By setting strong targets that include the entire supply chain and being accountable to those goals through comprehensive reporting, companies can create a ripple effect that sets expectations for other players and has the potential to influence industry-wide transformation."
- Steven Clarke, Director for Corporate Clean Energy Leadership, Ceres; Twitter: @CeresNews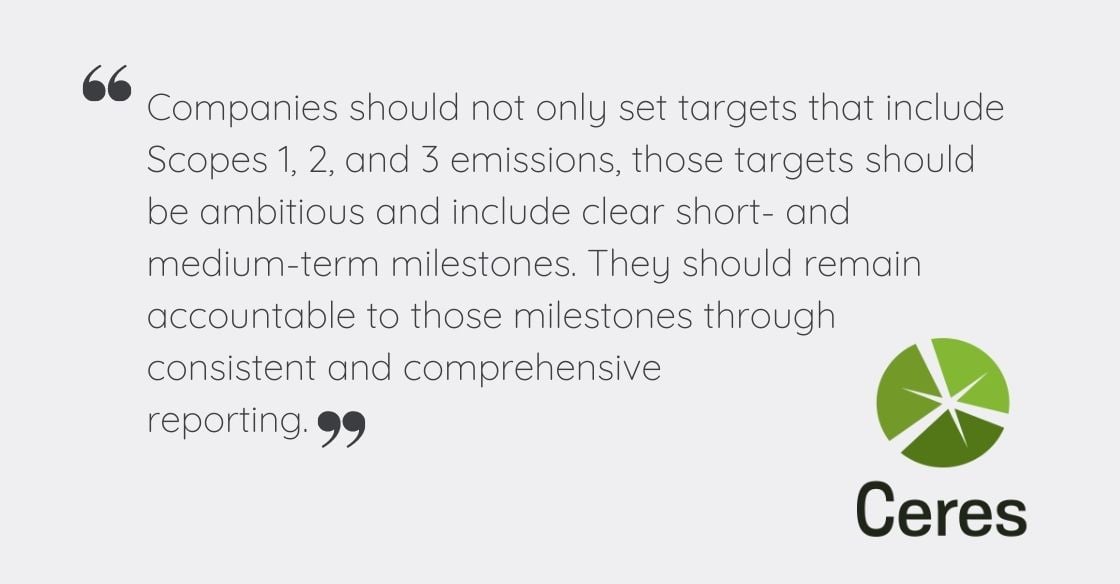 About Steven Clarke And Ceres
Steven coordinates Ceres' work to spur US corporate leadership on greenhouse gas emission reductions and clean energy uptake, including renewable energy, energy efficiency, and electric vehicles. Prior to joining Ceres, Steven spearheaded and developed clean energy projects and land conservation ventures in Namibia and collaborated with industry, government, and policy-making leaders on advancing national transmission policies and initiatives for renewable energy in the United States.
Ceres is a nonprofit organization transforming the economy to build a just and sustainable future for people and the planet. They work with the most influential capital market leaders to solve the world's greatest sustainability challenges. Through their powerful networks and global collaborations of investors, companies, and nonprofits, they drive action and inspire equitable market-based and policy solutions throughout the economy.
8. Make Your GHG Goals And Reports Public
"I would say first and foremost, measuring/tracking GHG emissions in the supply chain can help businesses understand their emissions profile and understand where they can most efficiently and cost-effectively reduce GHG emissions, which is necessary for the health of our planet. Second, businesses can better understand where they might be exposed to future regulations (i.e., if they have significant Scope 3 emissions and their supplier comes under a GHG regulation and needs to increase their prices on to the business). Third, if the business is regulated under a carbon tax or emissions trading scheme, then the company would legally be required to measure, track, and report on their emissions.
In terms of GHG reporting, use an existing standard, methodology, and framework to measure and report on your GHG emissions such as the GHG Protocol Corporate Accounting and Reporting Standard. Make your GHG emissions profile, along with your reduction goals, publicly available – whether via your website, annual report, or via a third-party system. Require suppliers, via procurement contracts, to report their associated emissions to the company (i.e., the company could also require their suppliers to have reductions goals)."
- Brian McFarland, Senior Vice President, Carbonfund.org; Twitter: @Carbonfundorg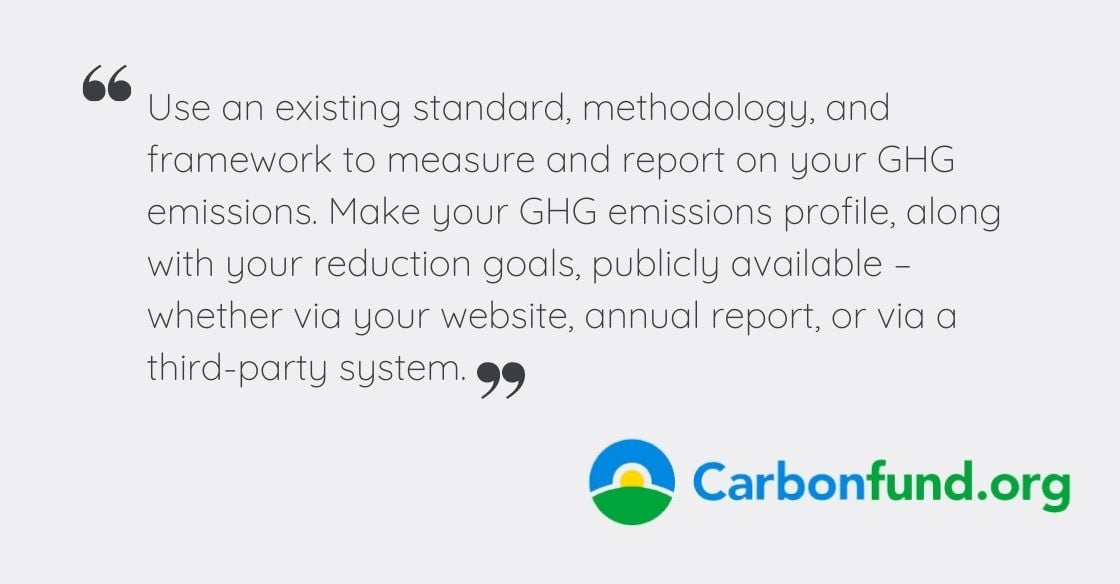 About Brian McFarland And Carbonfund.org
Brian McFarland is the Senior Vice President of Carbonfund.org's Project Portfolio where he identifies, conducts due diligence, and structures the financial support for climate change mitigation projects. Brian is also the Senior Vice President of Project Origination for Carbonfund.org's wholly-owned subsidiary CarbonCo, where he identifies, designs, and advises on the implementation of several REDD+ projects throughout Brazil. In addition, Brian leads CarbonCo's consulting engagements.
Carbonfund.org Foundation is a leading climate solutions and carbon offset provider for individuals and businesses globally. They encourage everyone to continually strive to reduce their carbon footprint through sensible energy reductions combined with cost-effective carbon offsets to eliminate their overall carbon footprint.
9. Gathering Supply Chain Data On Scope 3 GHG Doesn't Have To Be Difficult Or Costly
"In order for businesses to have an actual impact on reducing carbon emissions, they must track not only their direct carbon emissions (Scope 1 and 2) but also their indirect carbon emissions in their supply chain (Scope 3). As many of our experts have mentioned above, Scope 3 often makes up the bulk of a company's carbon footprint and is the most critical (and difficult) to track in order to reach goals. Oftentimes, businesses lack insight into their supply chain activities needed to mitigate risks. For companies with a large, sprawling supply chain it may even be impossible to track without the help of a partnership or third party.
Transparency, partnerships, and technology are all critical for successful Scope 3 carbon emission reduction. This must be both driven from the bottom up and the top down in order to have accurate metrics and business insights. Partnering with industry experts from both the public and private sectors can greatly improve your impact.
At Source Intelligence, we developed an affordable Scope 3 Greenhouse Gas Reporting solution that uses a centralized platform to automate GHG data collection from your supply chain. This data is then rolled up into dynamic reports and allows visibility into carbon 'hot spots' and areas of elevated risk throughout your value chain. "
- Dr. Jennifer Kraus, Chief Scientific Officer, Source Intelligence; Twitter: @SourceIntel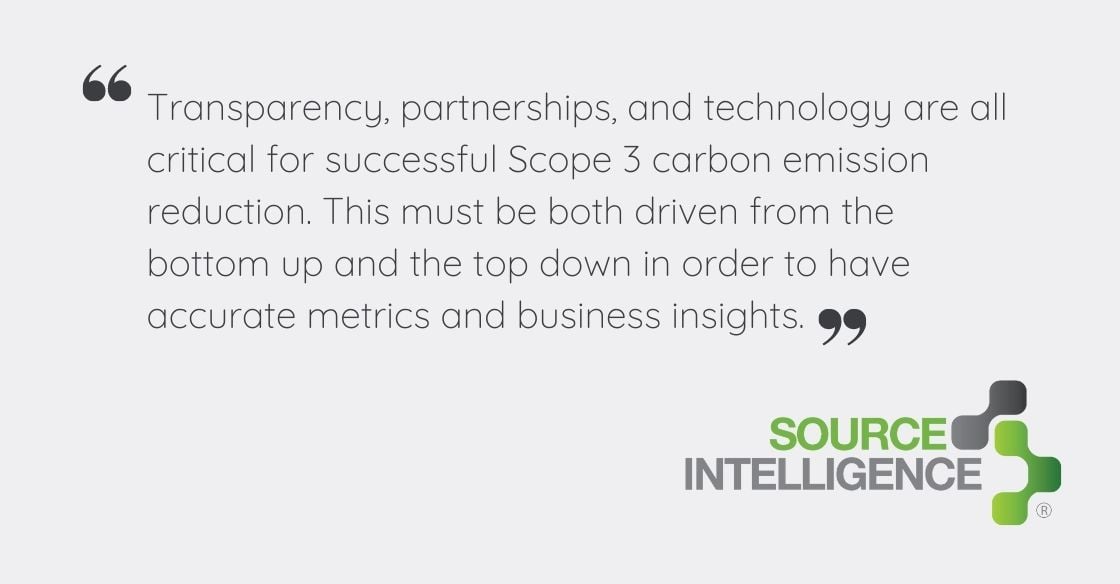 About Jennifer Kraus And Source Intelligence
Dr. Jennifer Kraus has over 30 years of experience providing environmental, health, safety, and sustainability services to customers around the world. Prior to co-founding Source Intelligence®, Dr. Kraus was President of Global Environmental Consulting Company, Inc. (GECCo, Inc.). Dr. Kraus also served as an associate with Dames & Moore, environmental manager for General Dynamics Electronics Division, and safety engineer with Litton Guidance and Control Systems. Dr. Kraus is a former board member of the Good Neighbor Environmental Board, a congressional advisory committee on environmental and infrastructure issues along the US-Mexico Border; the San Diego Regional Water Quality Control Board; and the San Diego Industrial Environmental Association.
Source Intelligence has been automating supply chain compliance for over a decade. Source Intelligence uses AI and machine learning technology to gather and validate supply chain data for over 300,000 companies for due diligence, regulatory compliance, risk management, and ESG initiatives. Source Intelligence has award-winning supply chain ethical sourcing solutions, including Scope 3 Greenhouse Gas Reporting.