Instron Product Compliance Success Story
In Search of a Supply Chain Compliance Partner
Instron is a global leader in the materials testing industry. With a wide range of testing systems, the company services and calibrates more than 30,000 active systems worldwide each year.

In late 2021, Instron was managing its product compliance efforts internally but, without a dedicated compliance team, resources were limited. Overwhelmed with the challenges of gathering supplier data, validating and maintaining accurate component information, and providing customers with declarations, the company created a new compliance management role to handle its compliance initiatives in the most efficient, cost-effective way possible.

That's when Tim Walsh stepped in as Instron's new Regulatory Compliance Engineer. After organizing existing compliance efforts and developing new internal processes, Tim set out to find a supply chain compliance partner to manage aspects of the company's compliance program—namely, data validation and reporting for several product compliance programs.


The Best Fit for Instron's Needs
In his search, Tim sought a supply chain compliance partner with reliable industry expertise, software that was compatible with Instron's current system, and an easy-to-use interface that automated most compliance processes. When he connected with Source Intelligence, he found his salesperson to be knowledgeable, personable, and hands-on throughout the buying process.

Before making his decision, Tim provided Source Intelligence with mock-up data to ensure its programs were compatible and could get the job done. With the results of the mock data test, coupled with Source Intelligence's competitive pricing, Tim was confident that he had found the best fit for Instron's needs, and he moved forward with the RoHS, REACH, and California Prop 65 programs.

Instron's product compliance programs are fully managed, apart from Tim providing the company's supplier data via a spreadsheet. Source Intelligence's team then handles the rest of the process, including validating the data and reaching out to suppliers as needed to fill data gaps before adding the information to its internal database. Once Instron's supplier data is validated, the platform automatically generates reports for Tim to send to Instron's customers. This process is a significant time saver for Tim, allowing him to focus on other compliance needs within the company.


Product Compliance Program Success
Since working with Source Intelligence, Instron has improved the quality of its components and parts data. Tim has a better understanding of which components and parts are compliant, as well as which ones are not, and can track changes to supplier data to ensure ongoing compliance. As a result, Tim is more confident when providing customers with declarations or answering other data requests.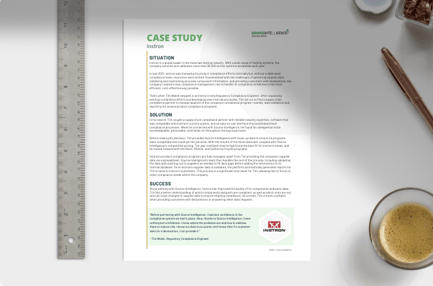 "Before partnering with Source Intelligence, I had zero confidence in the compliance system we had in place. Now, thanks to Source Intelligence, I have nothing but confidence. I know where the problems are and how to address them to reduce risk; I know our data is accurate; and I know that if a customer asks for a declaration, I can provide it." - Tim Walsh, Regulatory Compliance Engineer
Simplify Your Path to Product Compliance
There are now more than 800 product compliance regulations around the world, including RoHS, REACH, TSCA, Prop 65, and more -- and that number is growing fast every year.

Source Intelligence has automated solutions your team can manage internally, and the experts to provide managed services for your compliance programs. We provide businesses peace of mind by configuring solutions to ensure every part of every product is in line with regulatory standards.