Skip The Spreadsheets: How to Manage Obsolescence Without Manual Work
Parts obsolescence is a reality that can occur at any stage of a product's lifecycle. Components can become unavailable due to technical, financial, and legal reasons. Common occurrences influencing parts obsolescence include:
shortened innovation cycles
supplier withdrawal of components from their catalog
out-of-date standards no longer maintained
original manufacturers out of business
legislation that imposes new restrictions
and more
Obsolescence places companies at risk of not sustaining production or support systems, hindering growth and dependability. This situation creates a technical and logistical nightmare.
To effectively manage obsolescence and minimize pitfalls, professionals must adopt the best strategy. The options include sourcing alternatives or suitable replacements, or securing sufficient inventory through a lifetime buy. A system redesign is necessary in some cases, although that option should be reserved as a last resort solution.
Several tools exist to plan for and manage obsolescence. Historically, the use of spreadsheets has been the method of choice. However, utilizing spreadsheets for managing obsolescence is neither efficient nor cost-effective.
The Limits of Spreadsheets to Manage Obsolescence
Spreadsheets are useful for performing basic calculations, managing simple data, and accounting information. Nearly all devices come equipped with table software and the initial investment is relatively insignificant, but many shortcomings make spreadsheets inadequate to manage obsolescence fully.
Data entry and maintenance depends on manual intervention, which is time-consuming and prone to human error
Information is not centralized and difficult to cross-reference and consolidate
Collaboration is limited, even on cloud-based platforms
Scalability is a challenge considering the numerous sources and volumes of data streams
Data may be inaccurate and outdated by the time it's keyed in, rendering real-time decision making difficult
Spreadsheets are not designed to support data mining. Capabilities like predictive analytics are lacking, which is precisely what obsolescence management requires
In other words, the use of spreadsheets is a reactive management method in a scenario that requires a proactive strategy to mitigate risks.
Scenario: What If Component Obsolescence Occurs?


A component on a new design is determined to be obsolete when Supply Chain goes to procure it for a production run. What do you do?
Step One
The first step would be to determine the impact. Is your project the only one affected by this obsolete component, or are other products in your portfolio also impacted? Manually cross-referencing every product in the portfolio and searching through BOMs to determine full impact is difficult, error prone, and time consuming.
Step Two
The next step would be to find and qualify a suitable replacement. There are several factors to consider when approving an alternate component:
Form, fit, and function
Product Grade
Compliance with global environmental regulations
Fulfillment issues due to geopolitical tensions, COVID, shortages, and logistics problems
Maintaining profit margins
An obsolescence management tool can provide you all of this information at the click of a button, in addition to sending automated Alerts, providing early warning on critical product change and discontinuance notifications.
The time between a manufacturer's End of Life (EOL) notice and the Last Time Buy (LTB) date varies widely. An EOL notice could be effective immediately or provide anywhere from 6 months to a year. EOL notices typically provide up to 6 months of notice before a component becomes obsolete, but in these uncertain times suppliers are regularly forced to issue immediate EOLs with no LTB period.
Relying on spreadsheets to manage obsolescence exposes companies to missing EOL notices and can greatly reduce the time to find a suitable replacement through manual processes.
Managing obsolescence with an automated solution like Source Intelligence provides accurate data, predictive analysis, and the advanced notice needed to effectively mitigate component obsolescence risk.
Why Choose an Automated Obsolescence Management Solution?
The digitization of supply chains has brought forth greater access to information. Computer power is multiplied with artificial intelligence and algorithms to allow greater process efficiencies, enhanced collaboration, dynamic analytics, and improved decision-making with strategic insights.
Letting the machine do the work with abundant data means less wasted manual hours, greater accuracy, and better long-term planning.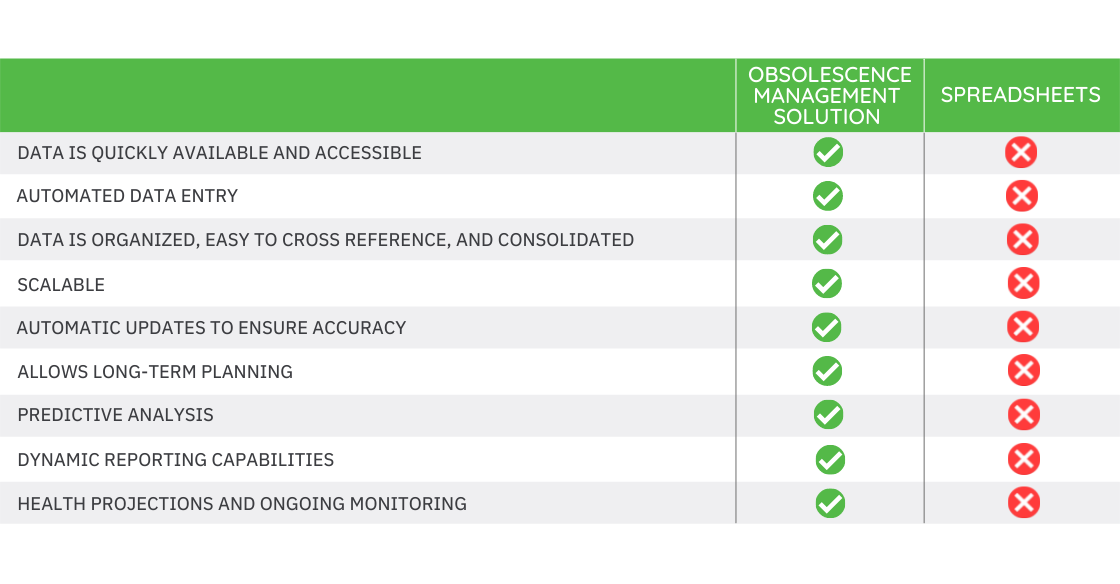 Ultimately, spreadsheets do not equate to having an obsolescence management plan in place. Manual work is subject to human errors, which all but guarantees at some point something will be missed.
Letting the machine do the work with abundant data means less wasted manual hours, greater accuracy, and better long-term planning.
Manage Obsolescence with Source Intelligence
Source Intelligence has designed an AI-powered Obsolescence Management SaaS solution that helps you predict your products' vulnerabilities, keep regulatory compliance up to date, and gain supply chain visibility and transparency.
Through our Obsolescence Management platform, you can:
Identify obsolescence and track critical components
Locate alternate parts, avoid production delays, and support disruptions
Perform health projections to better mitigate risks
Stay proactive with continuous monitoring
Spreadsheets are obsolete. Save time, stay connected, and be proactive by transitioning to an intelligent Obsolescence Management automation tool.