Guide to the EU POPs Regulation
Does your corn contain a POP? Chances are the answer is yes, if the crop has been treated with certain pesticides. In its firm stance against substances that prove harmful for human health and the environment, the EU is very active in restricting or requiring the elimination of specific chemicals (as such or unintentional byproducts) in articles or mixtures manufactured or placed on the European market.
In this article, we'll review what substances are affected, what the POPs regulation entails, and how compliance will be enforced.
What Are POPs Substances?
POP stands for Persistent Organic Pollutant, an environmental toxin that is harmful even in low concentrations. The regulation specifically targets substances that:
Are dispersed far across borders via the soil, air or water,
Remain intact for many years,
Accumulate in living organisms and are more present at higher levels of the food chain,
Are toxic to humans and animals.
Substances falling under the POP category are used to enhance properties or characteristics of flame retardants, electronic products, textiles, pesticides, and many other items we use daily. To quote the World Health Organization, they are "virtually everywhere on our planet in measurable concentrations."
By leeching into the soil, air, water, these pollutants enter the food supply and can travel far from their point of origin. Since they accumulate in colder climates, there are reasons to believe the global rise of temperatures will release more POPs into the ecosystem.
POPs are a major international concern and their dangerousness necessitates measures to stop their use and safely manage their disposal.
Scope of the EU POPs Regulation
Since POPs went into effect in 2001, the regulation has made headway on reducing persistent organic pollutant emissions in member states as seen in the chart below. Let's take a closer look at the regulation and how it is able to achieve results.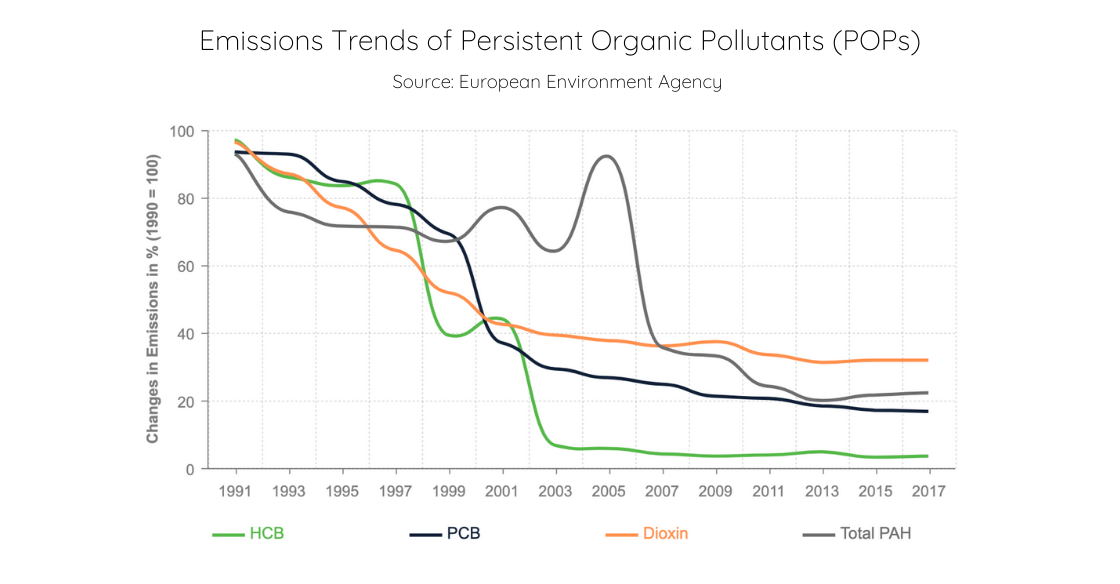 POPs Regulation in Europe: Regulation (EU) 2019/1021
The EU acts on behalf of its member states and has exclusive rights to propose that substances identified by the European Chemicals Agency (ECHA) be added to the Convention. In line with its commitment to protect human health and the environment, the EU POPs regulation sets forth specific measures that:
Prohibit or restrict production, marketing and use of POPs
Minimize environmental release of POPs byproducts
Impose strict safety management of stocks
Ensure sound waste management practices
What Substances Are on the List?
The POPs list comprises nearly 30 substances across 4 annexes subjecting them to specific measures and/or reporting requirements:
Annex I: substances subject to prohibition on manufacturing, placing on the market and use
Annex II: restriction on manufacturing, placing on the market and use
Annex III: provisions to reduce POP release
Annex IV: provisions for waste management
Click the button below for a downloadable list of POPs restricted substances:
The 30 substances on the POPs list can be found essentially anywhere, but there are some products that contain higher quantities and therefore are regulated. Some of these products include but are not limited to:
Pesticides and insecticides
Paint
Shellfish or wild-caught fish due to pollution
Poultry and eggs
Medical devices
Fire-fighting foam
Many consumer goods
How Will the POPs Regulation Be Enforced?
ECHA oversees a Forum for Exchange of Information on Enforcement, commonly referred to as "the Forum", which covers the enforcement of various programs such as REACH, Classification, Labelling and Packaging Regulation (CLP), Prior Informed Consent Regulation (PIC), and POP. Local inspectors in member states use the Forum to receive their marching orders in terms of enforcement practices, methodology and analytical methods.
Starting in 2022, inspectors will check that companies are compliant with the POPs regulation by checking products, likely starting with articles and mixtures at the consumer level.
As to which substances will be targeted, REACH is bound to be a main cross-reference source and the SCIP database will ultimately offer insights on which products should be prioritized.
Substances of Very High Concern (SVHCs) may also be subject to scrutiny, as well as substances the EU added to the proposed list of persistent organic pollutants.
Per ECHA, "each product can be controlled for several REACH or POPs requirements, which will broaden the scope of controls and strengthen the protection of EU citizens and the environment.
What Does the POPs Regulation Mean for Businesses?
The requirements apply to manufacturers, importers, and sellers of chemicals or articles that contain or release POPs. Despite exemptions and/or authorizations, organizations face a few massive challenges:
Identify the presence of POPs et al. in the products they make, import, or sell
Implement action plans to phase out and substitute for healthier yet equally performing substances
Work systematically with suppliers to improve and maintain the quality of information and data
The global nature of supply chains and chemical sourcing is another challenge in gaining visibility and ensuring transparency. The POPs regulation is an international affair embraced by many countries. Should the EU program prove the most stringent, it could serve as a solid framework to achieve compliance anywhere in the world. In this case, doing more means you do it only once. Even if there are no persistent organic pollutant regulations in place, such as in the United States, businesses can still be proactive in limiting the use of these harmful substances.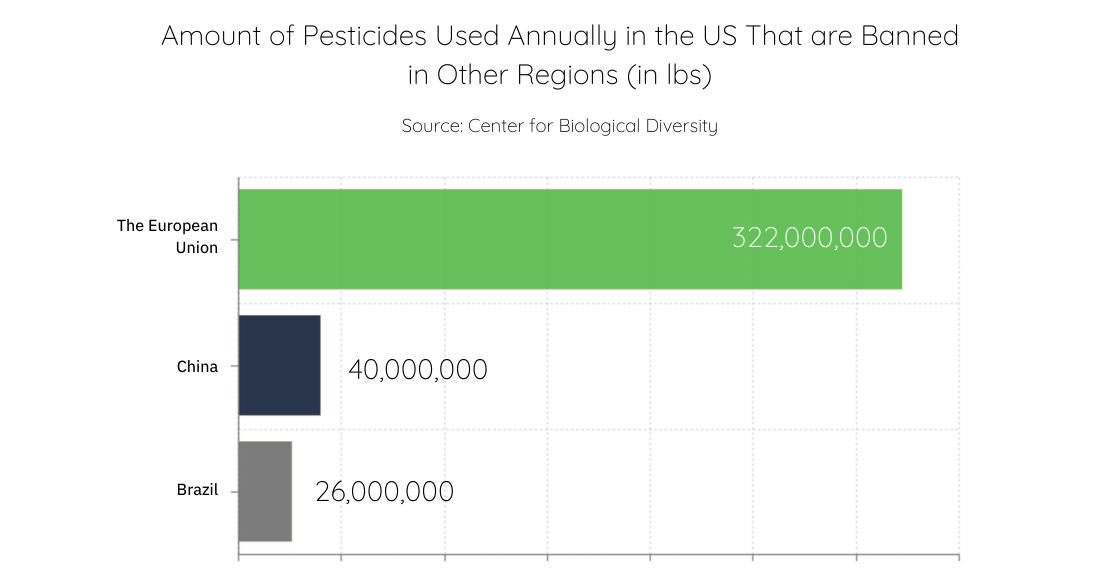 As seen in the chart above, the US utilizes many POPs that are banned in other parts of the world. Choosing to enact a due diligence policy can make an impact in reducing the use of hazardous chemicals. At Source Intelligence, we provide cost-effective solutions that are accessible for any business.
The Source Intelligence Edge
Capitalizing on over a decade of experience and leveraging AI technology, Source Intelligence is proud to offer the most comprehensive and inclusive solutions on the market, wherever you do business.
Taking advantage of our dynamic and collaborative database, we can offer the solution (and remedy to headache) that is the most appropriate for your compliance needs.
POPs regulation is no exception.
If you are looking for the elusive gold nugget (ethically sourced) that will save you time, financial resources and protect your relationship with a vast network of suppliers, look no further.
Request a quick consultation call with one of our regulatory experts so we can discuss your needs and help you find the best solution for you.