ESG Mapping: How Your Supply Chain Programs Fit Into An ESG Strategy
Executive Summary
When you are first implementing ESG reporting at your company, you most likely aren't starting from scratch.
Many of the global supply chain regulations you are already gathering data for can contribute towards the data you need to fulfill requirements for different ESG frameworks. This can include programs such as Conflict Minerals, REACH and RoHS, Corporate Social Responsibility (CSR) initiatives, and many more. - Click To Tweet
However, mapping the current supply chain programs you have in place into an overall ESG strategy can be complicated. To start, you'll need a full understanding of the data requirements for the ESG framework you're using. These frameworks include the UN Sustainable Development Goals, SASB, GRI, MSCI, or a custom framework. Since there is no standardized reporting template as of yet, each of these can vary extensively in the metrics they require you to report on.
Once you know your framework's requirements, you'll need to audit the current supply chain regulations you are complying with and how you can use that data to fill in the reporting requirements. This will identify gaps and areas where more reporting is needed as well as eliminate the need to spend more resources gathering data that you already have.
The biggest problems arise when sourcing products and services through various suppliers from across the globe. Many times, these suppliers are held to differing regulations and standards that vary by industry. Individually reviewing this data and making conclusions is time-consuming and often unrealistic.
In this white paper, we go into detail on the following topics:
Which programs map to UN Sustainable Development Goals (SDG)
Which programs map to Sustainable Accounting Standards Board (SASB)
7 steps to create a SASB ESG report
CSR vs. ESG: What are the differences?
How to make the shift from CSR to ESG reporting
How Source Intelligence can help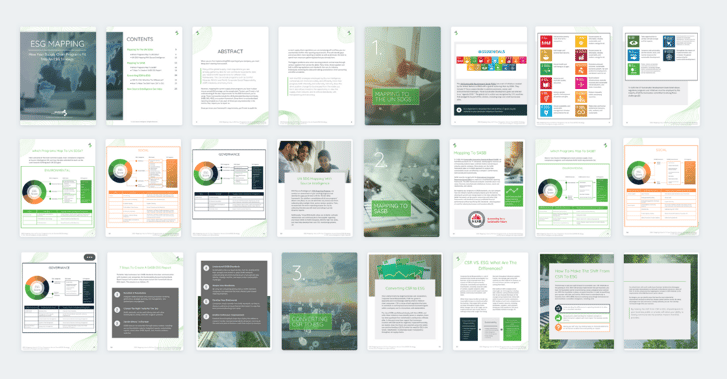 Download our White Paper to learn more: