If your company is doing business in one or more of the 27 member countries, you are already familiar with the European Union motto: EU, We Protect. Europe's parliament publishes many directives that aim to protect its citizens' safety and health, and the society and environment as well. It then belongs to member states to pass national laws to apply the recommendations and enforce compliance.
The latest to hit the news wires is the announcement of the SCIP database creation, designed to help hazardous waste operators better process treatment and disposal, ultimately empowering them with enough knowledge to minimize the presence of harmful substances in recycled material. The database is made available to the public to assist consumers in their purchasing decisions and encourage businesses to more sustainable practices.
SCIP Database in a Nutshell
As part of EU's ambitious Circular Economy Package, the revised Waste Framework Directive (WFD) had mandated the ECHA (European Chemical Agency) to establish database reporting products that contain Substances of Very High Concern (SVHC) and make the information available to waste management operators and the general public.
This SCIP database (Substance of Concern In articles as such, or in complex Products) has launched as a prototype on February 17, 2020, as a platform to test submission processes and its final version is expected in Q1-Q2 of 2021.
Scope of the SCIP Project
Articles as such and complex projects (two or more components) imported or placed on the European market and that contain listed SCVHs in a concentration exceeding 0,1% weight by weight fall within the scope of the database.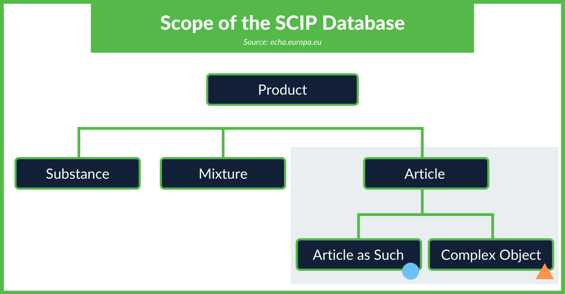 Mandatory article information:
Article name

Article identifiers

Article category

Production in the EU (yes, no, unwilling to disclose)

Characteristic value

Characteristic unit

Safe use instructions

Disassembling instructions
And for complex products:
Linked article

Number of units
Mandatory information on element and substance:
Candidate list version

Candidate list substance

Concentration range

Material category

Mixture category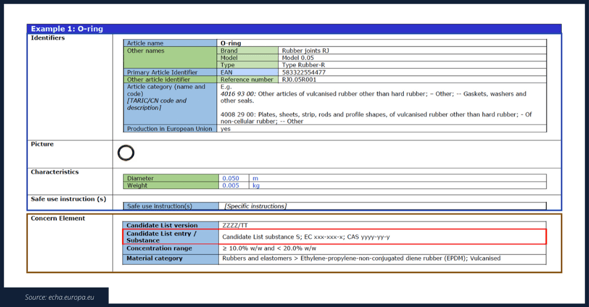 How to Use the ECHA SCIP Database
Intended users of this data are waste operators, NGOs, authorities, consumers as well as actors in the supply chain.
What Does the Public Database Mean for Businesses?
As we can see from the comprehensive list of the required information, EU manufacturers (or assemblers), importers and distributors have homework to do, although per ECHA:
"The obligation to provide information to ECHA starts with the first supplier (producer/importer2), because they have or should have the best knowledge of the article. Concerning other suppliers further down in the supply chain (such as distributors who are not importers), a pragmatic approach may be sought as regards to the way they fulfil their obligation, such as making reference to information already submitted by the upstream supplier. Such an approach would avoid double reporting and thereby limit unnecessary administrative burden for both duty holders and authorities."
The prototype currently available serves as a training tool so businesses can familiarize themselves with the format and submission process. Meanwhile, to meet the deadline of January 5th, 2021, it is necessary to set up the data collection process as soon as possible.
The good news is duty holders are already familiar with the REACH obligations (Registration, Evaluation, Authorisation, and Restriction of Chemicals) and likely possess most of the data necessary to create a submission dossier.
In an effort to be as user-friendly as possible, the SCIP database is accessible from a web application, via IUCLID interface or system-to-system transfer.
The SCIP timeline is:
July 4th, 2018:

Revised Waste Framework Directive

February 17th, 2020:

SCIP database prototype

July 5th, 2020:

Member state legislation

October 2020:

SCIP database enhanced prototype

January 5th, 2021:

Suppliers' submissions

Q1-Q2 2020:

SCIP database fully operational
How to Prep for SCIP?
Regardless of how up-to-date and disciplined businesses are with their supply chain data collection and maintenance, a plan of action should be established to avoid unnecessary delays.
Determine which articles contain Candidates List substances

Assess data gaps and identify high-risk articles

Contact your non-EU suppliers to gather necessary information

Select articles relevant to SCIP

Submit article data
It is important to note that it is crucial to correctly classify the articles that make up your product in order to be compliant with SCIP. If not identified correctly, businesses might believe a component can be considered an article and be reporting at the component level instead of at the article level.
Further down the road, updating and maintaining accurate information will be required.
How to Efficiently Meet SCIP Requirements as a Duty Holder
Compliance starts with accurate data and efficient supply chain communication. Maintaining supplier engagement is key to ensure your company meets the growing list of national and global regulations. Concerns over potentially harmful substances are not exclusive to Europe, which means you need robust tools to collect, aggregate, submit and utilize data. From safety data sheets to Full Materials Declaration and from hazardous substances restrictions to certificates of conformity, reporting obligations keep increasing, putting more and more burden on suppliers.
Source Intelligence understands the challenges that supply chain actors face today and has made the commitment to provide suppliers and their partners with a platform that contributes to the exchange of information and streamlines the compliance process.
The most notable features of our solution are designed to leverage supplier intelligence and utilize big data by:
Centralizing your supply chain

Automating data collection

Automating document review

Improving visibility on risk management
Don't let compliance become the elephant in the room and put your company in danger of regulation violations. Request a demo and see the customizable solutions Source Intelligence provides.