Emerging economies, market globalization, technology, and consumer demands are some of the many factors that have brought dramatic changes to supply chain management. One of these changes is the necessity to adopt a holistic approach to supply chain transparency and visibility. Without systems in place, reaching regulatory and corporate compliance is simply not feasible.
Supply chains have become an increasingly complex network of business partners, vendors, and stakeholders, defying geographic and political frontiers. Global digitalization has accelerated access to overwhelming amounts of data and information that organizations need to digest and exploit to their benefit and that of their customers. Simply put, supply chain management can no longer be reduced to logistics; instead, all actors within a company must collaborate to reach higher levels of efficiency. This includes procurement, product management, supplier governance, and regulatory management.
Yet, companies often struggle to fully optimize their compliance processes and face difficulties in getting the compliance documents they need from their suppliers, most commonly due to:
Lack of appropriate technology (or due to usage of several disparate systems that fail to connect)
Lack of optimal SRM, clear policies and procedures, leading to low supplier engagement and fatigue
Insufficient expertise in navigating regulatory requirements and intricacies
How to Get Compliance Documents for Regulatory Obligations and ESG Initiatives
If rules and regulations are ever-expanding to cover multiple domains (social responsibility, ethical and sustainable sourcing, product safety and more), they are also subject to periodic changes and updates. Suppliers display various levels of commitment to provide the documents necessary to manage both timely and complete legal submissions and risk management. In many cases, they lack a clear understanding of the laws and fail to fully realize the implications for their own operations.
The same challenges lurk in many places when it comes to your corporate compliance programs. Whether you adopted one of the ESG frameworks to publicly disclose your efforts to fight unsustainable practices or corruption or launched initiatives on a smaller scale, supplier engagement is crucial to achieving responsible business excellence.
Let's look at some common obstacles when trying to complete compliance requirements and how to best overcome them.
Compliance Documents Are Missing or Incomplete
Regulatory compliance programs come with a defined set of requirements from duty holders. While you may have the best compliance experts in-house, their task is impossible if suppliers are unaware of the importance of the information they have to share or unsure of how to procure it.
Educating your partners and communicating your list or requirements precisely and explaining the consequences of non-compliance (for your business and theirs) will give them a purpose to collaborate and participate. You should perform regular supplier assessments and include automated workflows to that effect when onboarding new vendors.
Modern compliance technology integrates warnings and alerts to highlight missing or invalid information, completely eliminating back and forth messaging and redundant time-wasting tasks.
Suppliers Are Late or Unresponsive
Reasons for late submissions or a lack of response stem from a couple of root problems:
1. The communication systems are not effective
While everyone is busy running their business, emails sit in inboxes and populate the backlog, and voice messages are left unchecked or are too imprecise or ambiguous to generate an appropriate response. It's all too easy for requests to be lost, forgotten, and inadvertently ignored. It's also difficult to track responses on your end with documents being sent back in a variety of formats through different channels.
Choosing a one-stop platform where your suppliers can easily check on the status of their compliance documents and upload all you need in as few steps as possible can greatly increase efficiencies and boost response rates.
2. The relationship is strained or is not founded on the basis of trust and partnership
Just as you expect your suppliers to perform, so do they. Supplier Relationship Management is too often kept to a few basics, yet the Gallup Business Journal defines supplier engagement as a strategic advantage well beyond compliance needs.
Engage your suppliers by sharing information and milestones that are important for all involved.
Limit fatigue by deploying simple, user-friendly processes and automated workflows.
Encourage collaboration between all parties (departments, suppliers, stakeholders) by assigning different access levels through the compliance pyramid.
It's also important to build trust by providing education and training to your suppliers. They may not be familiar with the regulations you need information for and might not know how to gather it and provide it for you.
3. Your suppliers are engaging in questionable or illegal business practices
In many instances, reaching compliance is as straightforward as compiling data sheets and product information. You check components against a list of substances of concern and request documents from your direct or indirect suppliers.
By no means easy, these types of compliance programs can be straightforward and require a dynamic data repository with the capability of using sets of information across multiple regulations.
In the case of Conflict Minerals, data collection has been happening for some time and risk assessment is facilitated by real-time map updates and reinforced by smelter verification processes to identify gaps and access accurate information.
Things get rather more complicated when suppliers' interests collide with ethics and human values. To comply with modern-day slavery laws or ascertain there is not a trace of money laundering in your supply chain, relying on suppliers providing truthful documentation can be risky.
A risk-based approach is the best solution, which is significantly more efficient with the use of risk-mapping. Thanks to data collection and cross-industry data sharing, along with documented reports and government listings, you can see which suppliers are at high risk for certain activities and know where to allocate resources for audits or who to request supporting evidence from.
Solving the Compliance Documents Challenge with Source Intelligence
Industry standards, legislated regulations, global compliance diversity, public opinion, ethical sourcing, environmental concerns, sustainable practices, ESG... Compliance takes many forms and impacts supply chain processes in ways never experienced before.
Closely working with suppliers is key to organizing the sharing of information. You may doubt that complete supply chain transparency could ever be achieved, but you know solutions exist to continuously work towards it.
At Source Intelligence, we know the importance of ensuring accurate supplier data and documentation. Any document provided by a supplier must be reviewed, verified, validated, and analyzed to ensure origin, accuracy, risk level, and compliance.
Our mission is to assist you in achieving compliance more effectively, more efficiently, and more rigorously than any other solution on the market.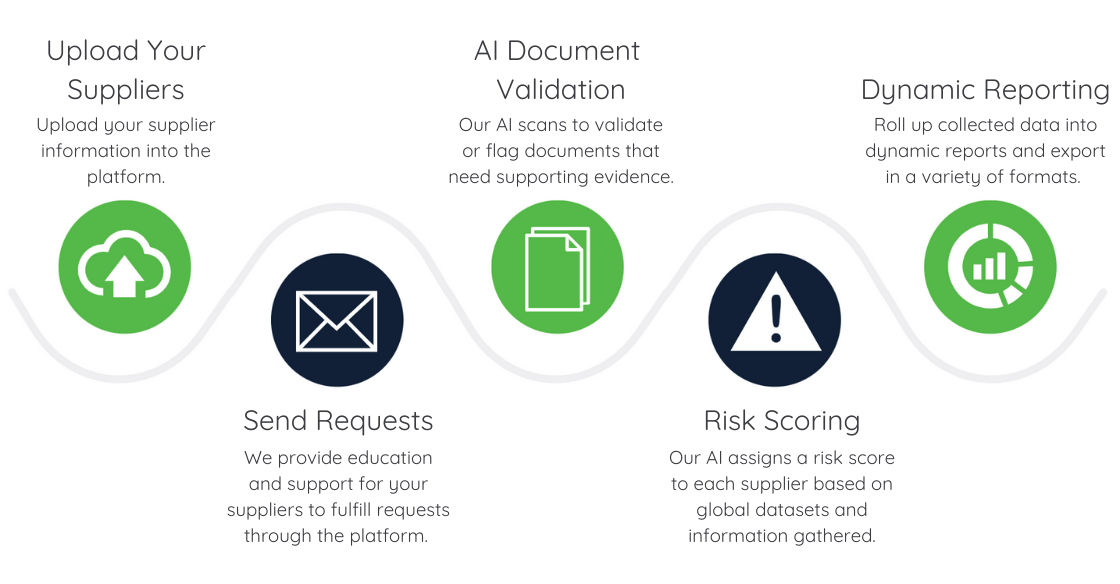 Our centralized platform allows you to upload your list of suppliers and choose which regulations you need documentation collected for. Suppliers then receive requests for information along with 24/7 multilingual support and training to give them the information they need to successfully complete requests. Once the required documents are uploaded, our platform uses AI to validate, verify, and assign risk scores for your review all in one place. You can then generate and export reports in a variety of formats to fulfill regulatory requirements.
Our platform is fully customizable to meet your regulatory needs and ESG initiatives, not only analyzing thousands of compliance documents and formatting submissions to regulatory standards but also generating dynamic reports and insights.
Still need convincing? List the challenges you face when attempting to complete compliance document collection and validate supplier data. Then, contact us.
Better yet, request a demo now to see how our platform can automate your entire compliance processes.