As procurement professionals, there's little doubt that supply chain visibility is a strategic priority. You may never attain full view but maximum visibility is the characteristic of a strong supply chain that allows you to gain: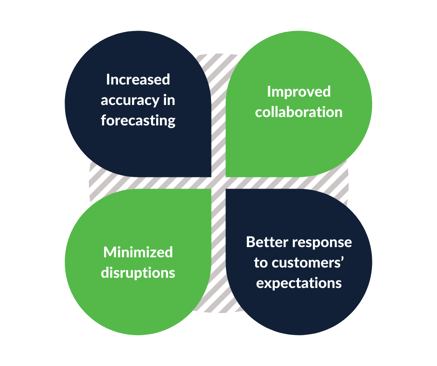 In its 2017 Supply Chain Worldwide Survey, Geodis reveals that only 6% of companies asked have complete visibility and 77% have none or a restricted view. As supply chain management has grown increasingly complex over the past years, restricted visibility can only cripple operations and lead to the added challenges of reaching corporate and regulatory compliance, while also putting a strain on corporate social responsibility commitments.
Where you should focus your efforts to gain end-to-end visibility in your supply chain largely depends on your goals and objectives as well as the pain points you have already identified. There are, however, areas of concern common to many organizations where dedicating resources will result in long-term success and higher profitability.
Achieving Product Lifecycle Transparency
Customers are a particular breed: they expect their products to be in stock when they order it, delivered on time (or before) and want to know where it was manufactured, where its components were sourced, what ingredients it contains…the list goes on. Rising collective awareness about human rights abuse and child labor can significantly hurt companies, even giants as Nike learned a few years ago through the Georgetown University episode. There are better ways to make the headlines.
Concerns over climate change, endangered biodiversity, and the trending shift towards natural products are adding pressure on supply chain managers and top-level executives to (re)define their corporate compliance policies and demonstrate qualitative and quantitative efforts toward ethical sourcing practices. Better yet, many take proactive measures like Unilever and its "radical transparency" policy on palm oil sourcing.
Whether your products contain mica from India, or chemicals known to kill bees, you cannot afford to avoid the question or merely reply "we have no reason to believe, etc." If your suppliers understand the benefits of collective efforts, they will be more inclined to partake in programs designed to add value to the chain all the way to the consumer. You allow them to better grasp the big picture and strengthen your relationships.
Managing Supplier Performance
How are your suppliers delivering on social, environmental, safety, and quality performance? Can you accurately and efficiently keep a tab on all of them without having to conduct costly audits and performance assessments?
The reality is that some of your suppliers are consistently top-notch, others may prove less reliable at times. Ideally, you want to implement different strategies based on location (high-risk areas vs low-risk areas), responsiveness to compliance documentation requests, and risk levels.
In essence, collecting and managing data on your suppliers is like grading them from best to could-do-better, which brings considerable benefits to your supply chain's visibility, transparency, and efficacy.
Needless to say, you can't rely on old methodologies to do so. A one-stop-shop like our Desktop Audit platform allows you to assess your suppliers virtually. You can get a better handle on your supply chain, access unique risk profiles for each, and better allocate time and resources for facility audits.
Leveraging the Power of Centralized Data
In the Geodis survey cited earlier, we can read that for 41% of respondents, data analysis is the next technology priority. Data management is likely the number one area to focus on if you aim to improve supply chain visibility. The information you collect on your suppliers, on the source of your product components, the progress and success of your programs, or even the data from further down the supply chain gives you a dynamic and comprehensive view of your supply chain at any given moment. Not only centralized data simplifies and streamlines compliance processes, but also allows you to identify gaps, trends, and opportunities.
Improving Risk Assessment and Mitigation
If the coronavirus pandemic teaches us anything, it's that the world can come close to a total halt in the blink of an eye. Risks are lurking in many places, from armed conflicts and political instability to child labor and viruses and knowing where those risks are more prevalent gives you the ability to take appropriate mitigation or remediation steps.
Source Intelligence has developed a feature to give you access to strategic global data. The map visually displays where your suppliers are located and scores the risk level for each. In the case of COVID-19, the map shows your unique risk profile based on cases worldwide and aggregates that data with your supply chain. Other profiles are also available to cover a wider scope of risk management in the supply chain.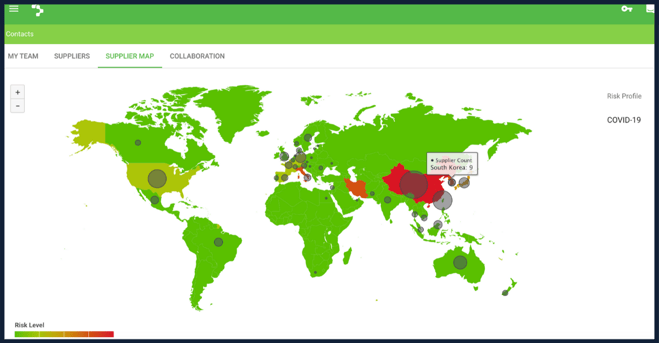 Globalization, digitalization, and mediatization are largely responsible for the need for procurement functions to gain better footing from end to end. Regulatory bodies are increasing compliance programs, consumers demand social responsibility, stakeholders expect accountability and better spend management. A bird's view of the supply chains is no longer sufficient in highly competitive markets. Now is a good time to embrace 360°.
For more information on our Desktop Audit platform for virtual supplier risk assessment, check out our one-page guide by clicking the link below!