The EU Biocidal Products Regulation (BPR) covers the legal requirements for placing and using substances and products containing active biocidal components. This includes chemicals whose properties protect against harmful living organisms like pests, algae, and bacteria.
As of September 2013, the Biocidal Products Regulation (BPR, Regulation (EU) 528/2012) replaced the previous Biocidal Product Directive. The regulation is legally binding in all member states and non-EU countries' signatories of the European Free Trade Association (EFTA), which includes Iceland, Liechtenstein, Norway, and Switzerland.
This article will guide you through the requirements of the regulation and how to comply to avoid product withdrawal or ban on the EU market.
Objectives Of The Biocidal Products Regulation
The main objectives of the regulation are to improve biocidal product function and ensure humans and the environment are best protected from harm either by airborne exposure, physical contact, or disposal.
To reach these goals, the BPR aims to harmonize the market, simplify the process of approving substances, and authorize biocidal products union-wide. Additionally, the regulation reduces the need for animal testing through data sharing obligations and encouraging research for alternative testing methods.
Per the BPR, substances in scope must first be approved and products must be authorized before they can be placed on the market. It is also pertinent to note that besides product authorizations and substance approvals, the regulation allows for product suppliers to specify the product type and be included in the Article 95 list, so it's not limited to just manufacturers and importers.
BPR Authorization Options For Biocidal Products
ECHA has expanded its authorization process. Now, companies needing authorization can choose the process most appropriate based on their product type and the number of countries where they have a market. They have also allowed for product families to be grouped in a single authorization.
National Authorization And Mutual Recognition
The biocidal product is placed on a single market. Authorization or renewal of authorization is given by the specific country's competent authority. Companies can request the authorization to be extended to other Member States by mutual recognition via MSCA (Member States Competent Authority).
Companies operating in several countries can request one single authorization that will cover all the EU.
Products that meet exemption criteria or do not contain substances of concern may benefit from a simplified process.
Same Biocidal Product Authorization
A product identical to an authorized product or to a product already subject to the authorization process may be waved through.
Product Types Covered By The Regulation
The Biocidal Products Regulation identifies 4 main groups subdivided into and 22 product types:
Disinfectants, except for products not intended to have a biocidal function
Preservatives used to prevent microbial and algal development
Pest control products
Other products like antifouling and embalming fluids
It is important to note that articles may need to be treated with biocidal products. Any articles, including those imported, if they are treated with biocidal products are subject to regulations under BPR as well.
Duty Holders' Obligations Under The Biocidal Products Regulation
Companies must be registered in their country of operation, including manufacturers that use biocidal products on site.
In Article 95, the BPR stipulates that products must not only include approved substances, but also products purchased from an approved substance or product supplier for that product type. In other words, BPR requirements cover both substances AND suppliers. The list is regularly updated by ECHA to reflect new approvals and authorizations for new substances, suppliers, and organizations.
Steps To Obtain Approval And Authorization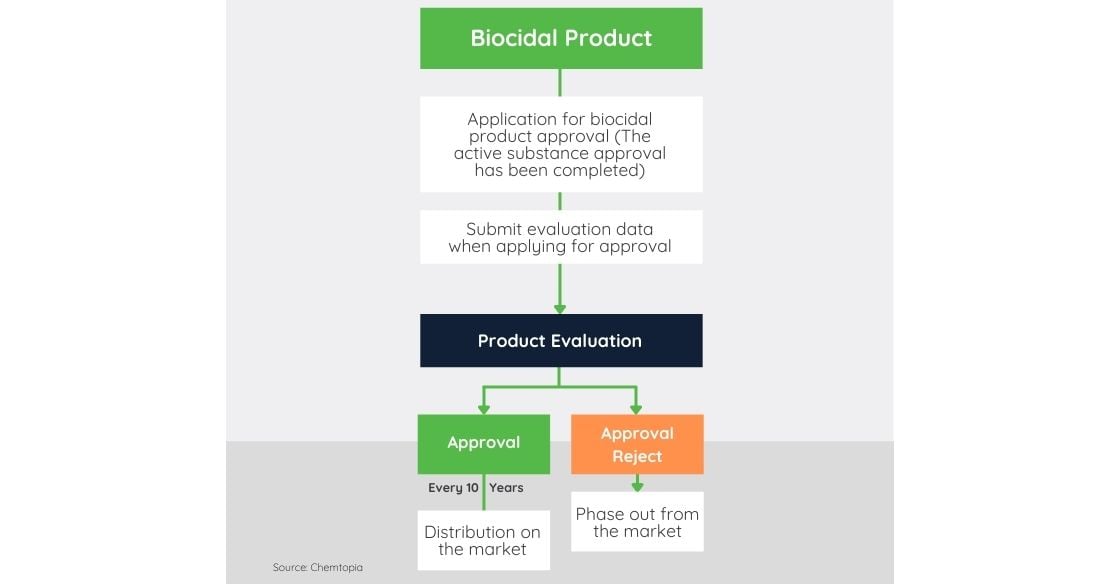 Extensive data sharing regarding toxicological results, environmental impacts, substance behavior, and animal testing is a novel, but necessary concept to help the process be more efficient, reduce costs, and eliminate the need for duplicate animal testing. Companies are required to take certain measures to ensure a compliant approval process:
Deliver data that documents and proves the effectiveness and safety of the biocide
Produce an efficacy, toxicity, and user-risk assessment
List active substances and suppliers
Provide consumers with information about treatment, if applicable
Mandatory Data Sharing
Submit product information and test data via IUCLID
Articles must disclose any SVHCs present at reportable levels via the SCIP Database
How To Manage Compliance With The BPR
As with many compliance programs involving data collection and risk management, turning to an automated process to validate gathered information from the supply chain is crucial. A software solution prevents human errors and omissions, creates virtual links between data sources, and reveals risks and or gaps that command attention.
Source Intelligence has developed a BPR solution that covers each step required to comply:
Gathering data at the supplier, product, and substance levels
Identifying active substances in scope of the Biocidal Products Regulation
Assessing supplier-related risk based on historical and real-time data
Aggregating relevant data into an application dossier
Automating dossier submissions to ECHA via IUCLID
Our BPR solution utilizes the same technology we developed for our industry-leading SCIP Database Solution to gather and roll up article and complex object data into IUCLID friendly formats for submission.
As the leading provider of supply chain compliance solutions, Source Intelligence is committed to simplifying and optimizing your supply chain data and assisting you to the fullest. With programs for nearly 100 global regulations, Source Intelligence's platform is able to consolidate compliance management in one place.
Request a demo of our Biocidal Products Regulation Program today to see how we can simplify compliance and eliminate unnecessary manual work.