Here's What To Know About The EU Supply Chain Due Diligence Directive
Sovereign states like France, Germany, and Finland are leading the way towards a uniform mandatory supply chain due diligence legislation addressing human rights and environmental protection. The two issues are naturally linked, as global warming will likely increase poverty, limit access to natural resources like water, and/or force affected regions to displace populations.

As of now, a handful of European countries already have human rights and environmental due diligence regulations in place or are discussing the necessity to legislate: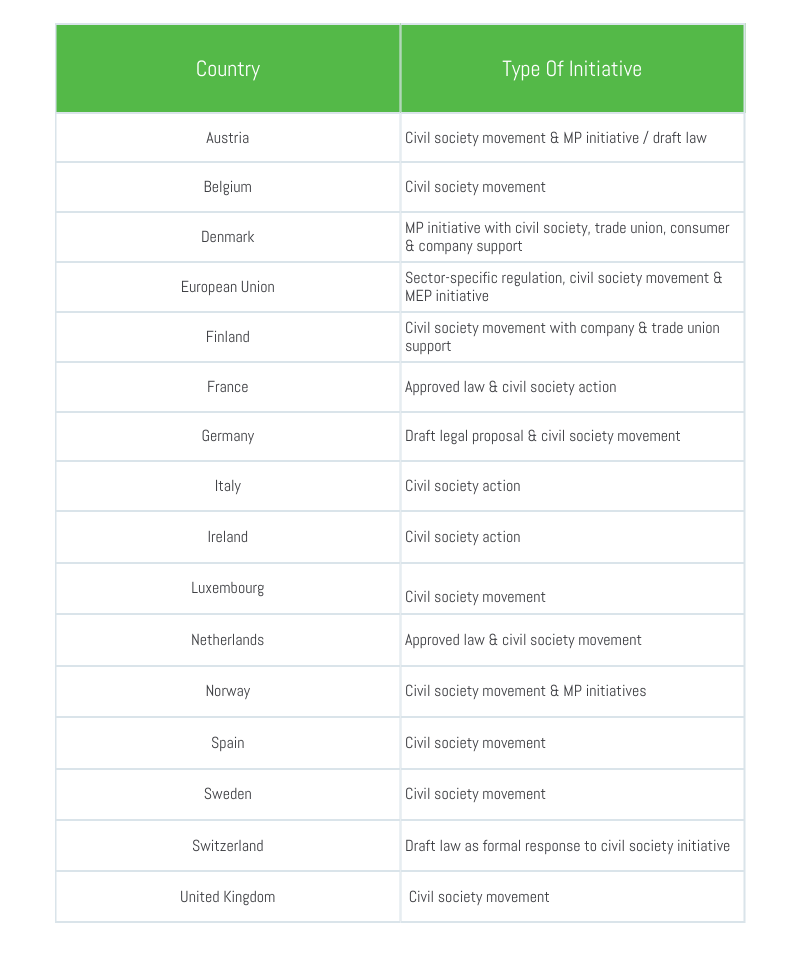 In 2020, European Commissioner for Justice, Didier Reynders, announced the Commission had picked up the pace, making a European directive a 2021 priority.
The first draft of the EU supply chain due diligence directive has been published by the European Parliament's Committee on Legal Affairs. From now on, we expect the European Commission will promptly take action and propose legislation.
In this article, we'll review who's in scope, what the duties encompass, and what to do to keep supply chain due diligence effortless and economical should the proposed law pass.
Which Businesses Would Be Impacted?
The proposed directive is reaching far and wide:
Companies established in the EU
Companies doing business in the EU
Businesses are in scope regardless of size or turnover, although micro-enterprises may be exempt.
Ultimately, any organizations involved in business in Europe are expected to implement a solid human rights and environmental due diligence program in a manner proportionate to its means. According to a study commissioned by the European Commission, the costs associated with due diligence obligations for large companies would not exceed 0.005 percent of their turnover.
What Would Be The Due Diligence Requirements?
The directive asks that companies establish a compliance program that ripples upstream and downstream of their supply chains. In other words, suppliers beyond the first tier need to conduct due diligence practices themselves on human rights, environmental impact, and governance.
Companies in scope will consult with stakeholders, including indigenous people and trade unions to validate and adapt their strategy to best benefit all actors involved and mitigate potentially negative impacts of the actions they take.
The draft also stipulates that companies implement grievance mechanisms so that concerns can be safely raised and communicated.
What Would Happen In The Case Of Non-Compliance?
Regulations are only as good as the enforcement provisions that are put in place. The supply chain due diligence directive aims to not only harmonize national programs but also to hold companies accountable, which is rarely addressed in voluntary processes alone. Germany, for one, learned this the hard way, hoping good deeds or good intentions would be enough only to move to propose legislation on human rights.
Non-compliant organizations will face penalties, including criminal penalties if intentional or serious negligence is revealed in view of repeated defaulting.
Companies may also face civil liability according to laws in place in the country of offense. There is discussion to widen the non-compliance snare to bring justice not only in the European country where the company is registered or is operating but also taking into account the damages caused by subsidiaries or partners in a third country.
The possibility of claimants choosing where matters should be tried is likewise brought up: in the EU home-country of the company or in the country where it does business or the country where the damage took place.
How Can You Prepare for Compliance?
The pandemic has painfully revealed how supply chains lack resilience and are too dependent on external and non-controllable parameters. It certainly has taken a toll on millions of organizations, big or small, including tiny businesses on the other side of the world seeing their operations come to a halt or putting their staff at risk to be able to fulfill orders.
It's critical for businesses to quickly figure out where to start and how to adopt a system for due diligence in the long term when it comes to preparing for new legislation and directives.
According to the EU-commissioned study cited earlier, business respondents and industry representatives mentioned three incentives motivating them to begin due diligence:
Reputational risks
Investors requirements
Consumers expectations
A risk-based methodology is the surest way to conduct due diligence by:
Collecting suppliers' data
Identifying risk factors by geographical location and sector/product
Assessing human rights, environmental, or governance issues in the supply chain
Prioritizing compliance processes by risk level
Supply Chain Due Diligence Compliance with Source Intelligence
At Source Intelligence we believe that businesses of all sizes should be able to affordably and easily conduct supply chain due diligence. That's why we've created an integrated compliance platform powered by artificial intelligence. We provide one single place to collect, verify, and analyze data for quick and simplified reporting for over 50 global regulations and sustainability initiatives.
More than software, we offer the assistance of a team of regulatory experts and 24/7 supplier support in several languages.
Let's talk about your needs for existing compliance programs or expected new laws today to get you ready for due diligence.