For years, Germany seems to have lagged behind other European countries when it comes to enacting a human rights policy. But now, the federal government and lawmakers are actively working on drafting a mandatory human rights due diligence law, expected to pass before the Bundestag (parliament) elections in September 2021.
What are the terms of this German human rights law? What companies will be affected and how can they best prepare to be ready to comply?
Background and Early 2021 Progress of the Proposed Law
Up until 2016, Germany had taken minor steps to impose supply chain due diligence on companies. Human rights protection is inscribed in its constitution, but little has been implemented in terms of business affairs and foreign trade.
The National Action Plan on Business and Human Rights
Between 2014 and 2016, Germany drew up the National Action Plan on Business and Human Rights (NAP) to encourage stakeholders (businesses, politicians, associations) to more actively contribute to improving human rights respect along the supply chains domestically and globally.
Adopted in late 2016, NAP outlines what is expected of businesses in terms of corporate human rights due diligence, inspired from the five core elements set forth by the UN Guiding Principles on Business and Human Rights:
Acknowledging responsibility to respect human rights
Identifying risks resulting from corporate activities
Minimizing risks by implementing prevention measures and counter-measures
Informing and reporting outside the company
Facilitating complaints to identify risks at an early stage
The action plan was based on voluntary engagement from businesses and did not intend to become mandatory, contingent on reaching the goal of at least 50% of German companies with more than 500 employees implementing due diligence systems by 2020. Failure to achieve the goal would result in legislative actions.
NAP-monitoring was realized via interim surveys in 2019 and 2020.
The first survey (October 2019) sampled 460 companies, of which:
only 17-19% were able to demonstrate a commitment to the requirements
9-12% percent did not wholly meet the requirements but had good practices in place
The final quantitative survey was conducted between March and May of 2020 and revealed that:
13-17% of respondents had adequately implemented the core elements
10-12% were deemed on track
1% pledged to have a plan by the end of the year (2020)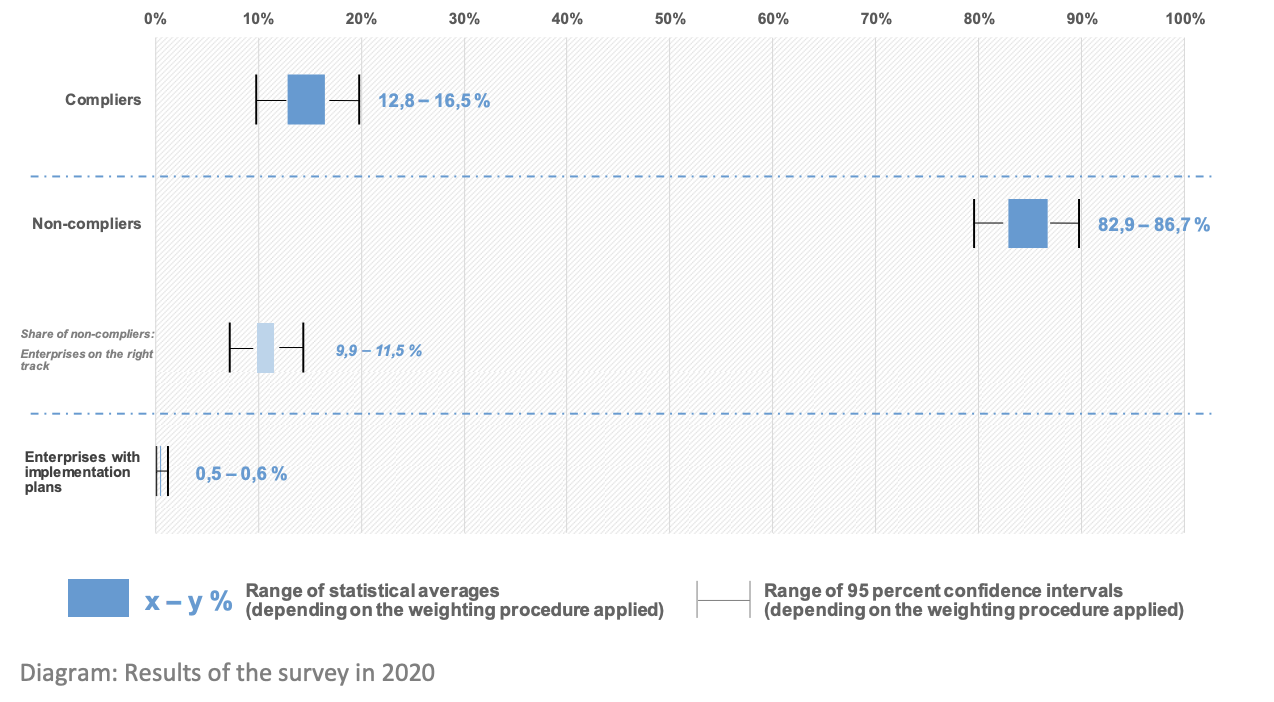 To the Federal Government, NAP ceased to be a viable plan and discussions about legislative measures resumed. Chancellor Angela Merkel put talks on hold due to the strain the pandemic put on the country. In 2021, the German Human Rights law has resurfaced on the agenda.
Draft Status as of February 2021
On February 12, sources in Germany's government revealed it had reached an agreement on the legislation in terms of company size.
Who would be affected should it pass?
Companies with at least 3,000 employees, starting 2023
Companies with more than 1,000 staff, starting 2024
Key Elements of the Supply Chain Act
Corporate Requirements
Companies in scope shall ensure that social and ecological standards are observed through all tiers of the supply chain, from the extraction of raw materials to the end product. It is their responsibility to ensure all of their suppliers comply with the requirements.
Companies will assess the adverse effects their activities may have on human rights. This risk analysis will help determine which measures are appropriate to prevent those effects and provide remediation.
Companies will publish an annual report on their website and will report to a yet-to-be-named federal authority.
Corporate Liability
Companies shall be liable only if the damages could have been foreseen and avoided with due diligence processes.
Companies shall not be liable for human rights violation if it has done everything it legally could to prevent it.
There will be no extended civil liability, but claims may fall under general civil law. The proposed German human rights law may include a provision limiting civil liability to intent and gross negligence in case companies have implemented industry standards approved by the state.
Sanctions for Non-Compliance
Companies failing to comply could be fined up to 10% of their annual turnover. They could also be excluded from public tenders for up to three years.
Business representatives have expressed concerns regarding the liability burden such law would place on organizations, especially when monitoring thousands of suppliers across multi-tier supply chains is close to impossible.
Despite criticism, the German supply chain law is expected to move forward and enter into force at the beginning of 2023; the initiative has already received support from major brands, including Nestlé and Daimler. The automaker has published a statement welcoming the legislation, provided it:
Is practicable for companies
Does not lead to disadvantages in international competition
How to Prepare for Compliance
Various human rights compliance programs are already in effect around the world:
Major global initiatives are largely inspired by international laws and the UN framework, so complying with a German human rights version doesn't come out of the blue. The challenge mostly rests in the capability to collect and verify data to reinforce risk management measures and design appropriate prevention and remediation measures.
Source Intelligence's human rights solution is built on the principles of the OECD due diligence programs and is customizable to the variations of different sovereign states' laws.
Our platform is designed to:
Gather data and collect documents from all tiers of your supply chain
Virtually audit or assess your suppliers
Assign risk scores to help you prioritize the urgency of actions
Facilitate transparent reporting
Deliver actionable insights
Whether your company falls in the scope of regulatory programs or wishes to implement processes to increase supply chain transparency and improve brand reputation, our integrative AI-powered software solution is a must-have. See what our platform can do for you!