Human Rights Issues in Many Shipping Supply Chains Require Action
The pandemic has forced us to realize how much we rely on global supply chains and has revealed its many weaknesses. One of these areas is the shipping supply chain, especially in maritime logistics.
The International Chamber of Shipping (ICS) estimates that over 1.5 million seafarers roam the ocean at any given time. Collectively, they transport 80% to 90% of all traded goods.
Unfortunately, the actions governments took to slow the spread of COVID-19 had an unintended side effect. Travel restrictions and suspensions on the issuance of travel documents created a series of human rights abuses in the cargo shipping industry. - Click To Tweet
These shipping supply chains are facing what the UN and other international agencies call a "humanitarian and safety crisis".
Let's take a look at the risks stranded seafarers are exposed to and how supply chain professionals can address these issues under the guidance of the UN Human Rights Due Diligence Process.
Cargo Shipping Issues Amidst COVID-19 Crisis
Under normal circumstances, working on a freighter is by no means a walk in the park - or a swim in the ocean, rather. The working and human conditions freight workers have been subject to during this pandemic are in many ways similar to forced labor.
At the peak of the crisis in September 2020, 400,000 crew members were stuck at sea. Tens of thousands still are, while those on land are denied access to ships to relieve their fellow workers because crew changes are on hold. The situation carries grave consequences for workers trapped on cargo ships, such as:
Labor Rights Issues
Working for a period extending the default maximum of 11 months
Crew contract extensions "avoided" by vessel operators
Working beyond the expiration of contracts without consent
No fair or free repatriation
Bearing the cost of quarantine obligations
Potential lack of adequate proactive personal equipment
Unpaid overtime
Human and Health Issues
Limited or no access to medical care ashore
Insufficient access to medical care aboard
Exhaustion
Mental health degradation
Loss of income
In a January article, NPR reports some seamen even contemplate voluntarily injuring themselves to escape this "sea prison."
So as to not further disrupt their business, some commodities companies are adding a "no change crew" clause in their contracts or are simply avoiding hiring certain vessels to keep the problems under the rug, as reported by Bloomberg in March 2021.
But most organizations, including big brands, have not been aware of the issues. Others have launched shipping supply chain investigations and unearthed a few unsavory practices.
Blaming COVID or blaming governments for the measures they took in good faith is the easy route. The "no choice" argument is certainly en vogue. For the UN and other leading human rights organizations, the situation is not acceptable. Both governments and businesses must take action.
The future looks uncertain at best and the fear of new restrictions sparked by the spread of new virus variants brings even more uncertainty about the welfare of shipping crews both ashore and at sea.
UN Human Rights Due Diligence Initiative
The UN Global Compact, the UN Human Rights Office, ILO, and the International Maritime Organization have collaborated to develop a process that can help businesses assess and mitigate risks in their shipping logistics. Other groups have actively participated in the project, such as the International Transport Workers' Federation, the International Chamber of Shipping, the Institute for Human Rights and Business, the Rafto Foundation for Human Rights, and the OECD.
Needless to say, it is getting as much attention as it is getting support, mostly due to the urgent nature of the issue.
This initiative brings about the concept of analyzing risks posed to human beings, rather than to companies. The due diligence process follows a few simple steps:
Assessing impacts
Integrating and taking action
Tracking performance
Communicating
Besides a comprehensive checklist that includes making sure crew changes are in no way prevented (and that no such clause appears in contracts), the toolkit recommends working with unions and the shipping chambers to perform a full audit.
There are many actors in the maritime supply chain, and transparency is not particularly easy to achieve if you've never paid special attention to that area of operations. Shipping the goods from A to B is often reduced to sending documents, receiving some in return, and letting brokers get you the best deal and carriers take care of the rest.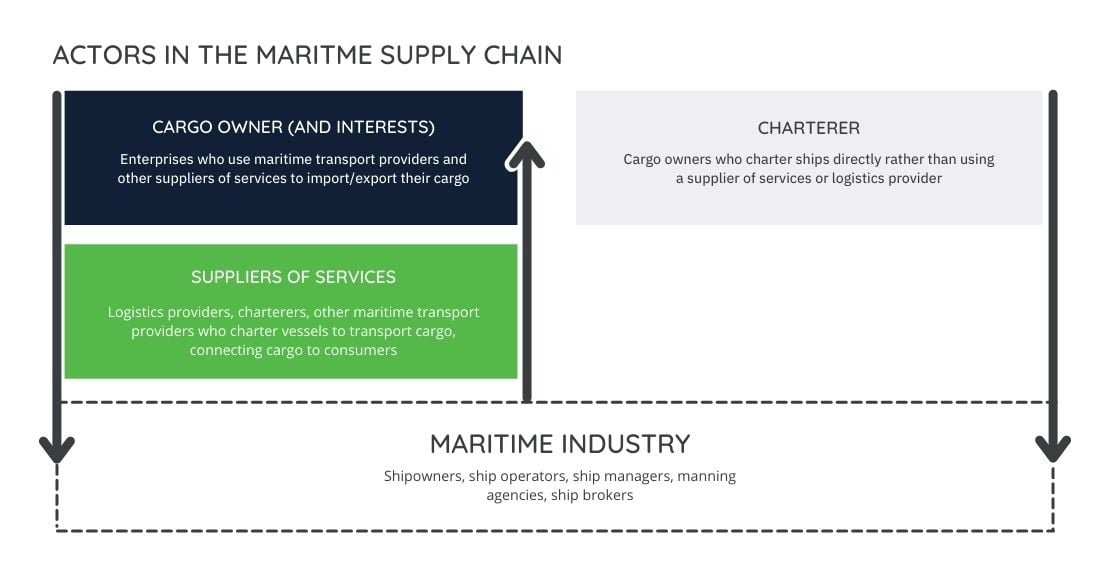 The UN Global Compact program suggests involving all stakeholders in the process. The pandemic has not just crippled the supply chain from a strictly supply and demand perspective, it has and still is affecting rights to physical and mental health, access to family life and freedom of movements, some fundamental rights we should all have.
Beyond surveying the shipping supply chain operators regarding their policies and practices, companies can make a difference in several ways
using collective leverage on governments and transport providers
opting to work exclusively with carriers who care, i.e., take proactive steps to protect crews
working closely with maritime labors unions
"Sailing" The Deal: Extending Supply Chain Transparency To Transport
The maritime shipping crisis has turned into a new form of forced labor. As of now, if not already the case, your supply chain risk mapping should include maritime workers to ensure you do not participate – albeit unwillingly – nor condone practices that adversely impact human rights and human welfare.
At Source Intelligence, we've made it our mission for over a decade to use technology to increase transparency in supply chains. And we've succeeded in helping over 300,000 businesses map out their entire supply chains and get the data they need.
Using a centralized platform with AI document validation, we've developed a solution to manage supply chain risks of all kinds – including shipping practices - regardless of their complexity.
Do not let risk areas in your supply chain go unaddressed. See how our solution can help stop human rights abuses in your supply chain today.