Human Rights Regulations and Their Business Impact
Effectively Navigating the Complex Human Rights Regulatory Landscape
Over the last several decades, society has become more aware of social issues. This has spread to governments, which are now demanding stronger company oversight and due diligence processes. One of these concerns is modern-day slavery, which is the exploitation of other people for personal or commercial gain. Common forms of modern-day slavery include child labor, trafficking, and forced labor. More companies are now aware of these concerns. Whether driven by government regulation, internal ESG policies, or protection of their public image, identifying and removing modern-day slavery from supply chains is becoming a requirement.

Whether it is sugar, fish, electronics, or garments, it is crucial to understand that imports account for between 25% and 30% of global GDP, making up a sizable portion of the global economy.[1] The harsh truth is that most organizations do not have heightened supply chain visibility. And without accurate and comprehensive due-diligence policies and processes in place, it is challenging for companies to be certain their supply chain does not contain modern-day slavery practices and have the ability to comply with global Human Rights regulations.
The focus of the white paper is to shed light on the Human Rights regulations and due diligence parameters. You will also learn how using technology innovations to manage due diligence can combat modern day slavery and exploitation in your supply chain.
In this white paper, we go into detail on the following topics:
Human Rights Fundamentals

Human Rights Regulations: Supply Chain & Risk Management

A Closer Look at Supply Chain-centric Human Rights Violations

How Human Rights Impact Business

Human Rights Regulations

Global Human Rights Regulations

ESG Metrics & Goals

It's About "Doing Good" Rather Than "Looking Good"

The Benefits of Building an HRDD Program

Forced Labor, Technology, and Due Diligence

Benefits of Our Human Rights Assessment Solution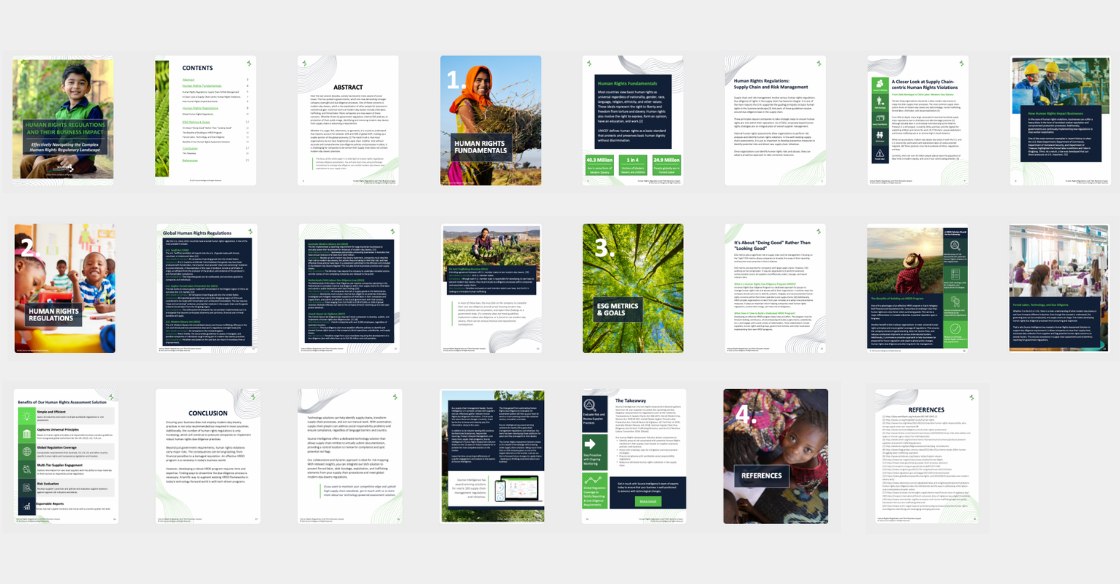 Download our White Paper to learn more: