In October 2020, ECHA launched the SCIP database. Despite push-backs from the industry, the EU held firm on the compliance deadline. As of January 5th, 2021, organizations placing products on the European market must adhere to the program's requirements.
---
There are, however, many issues stemming from the complexity of the program, and lots of businesses are trying to understand what is expected from them and how the mechanics of SCIP will work.
In this article, we address the most frequent and pressing questions. Our SCIP database FAQ list covers most of the areas where duty holders are still facing challenges.
Q: What Is the Purpose of the SCIP Database?
A: SCIP stands for Substances of Concern in Products. The database will serve as a catalog of information on potentially harmful substances present in products imported and distributed within the 21 EU member states.
The program is part of the Waste Directive Framework established by the EU to implement steps toward a more circular economy and facilitate waste management. Its ultimate purpose is to address the negative impact of waste material (handling, recycling, disposal) on people's health and the environment.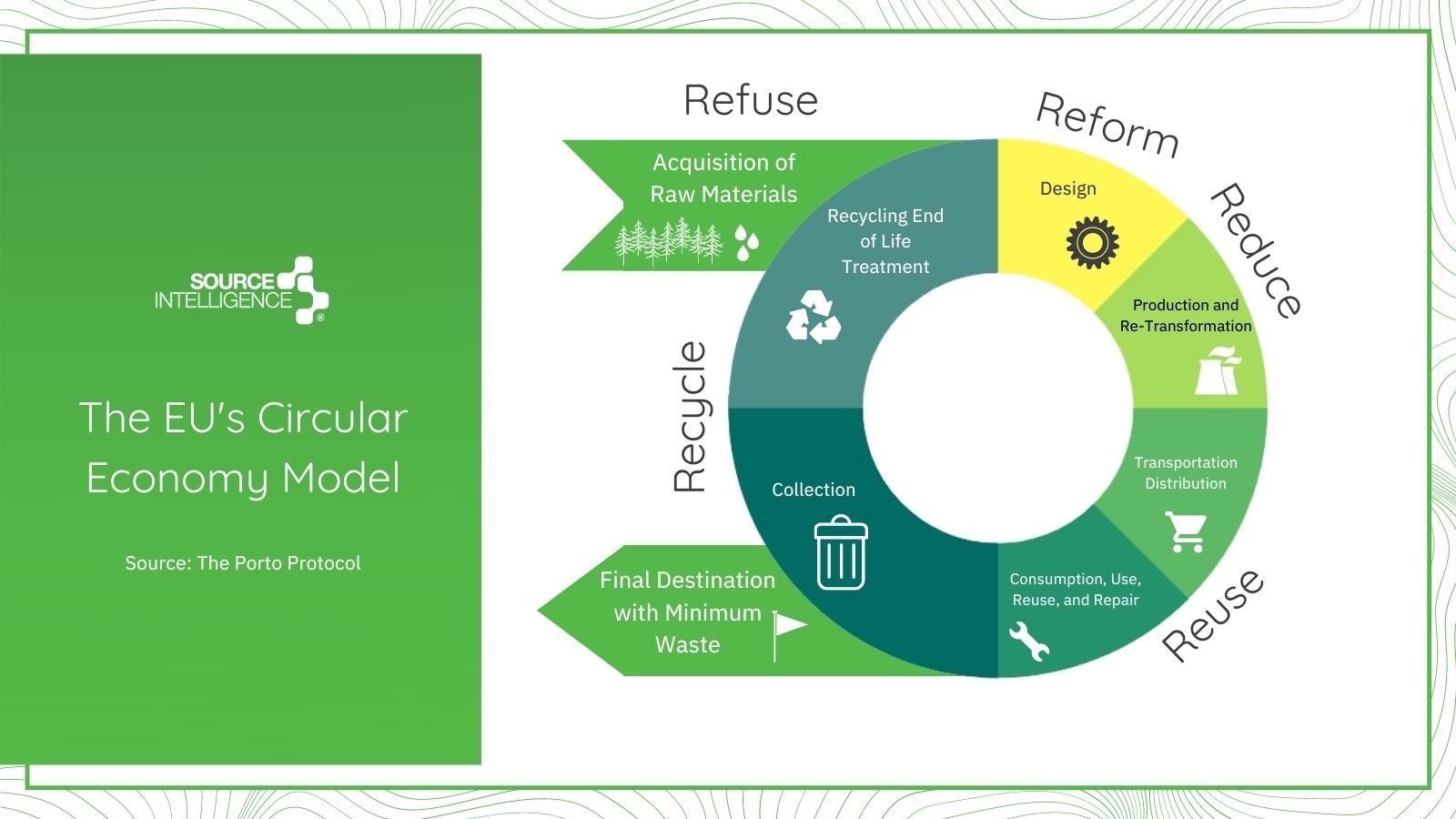 As a byproduct of these sets of measures, the SCIP database not only serves as an educational medium for waste management operators and the public but also as a marker for SVHCs throughout the entire lifecycle of the product.
Q: Can We Just List the Substances Present in the Product?
A: Unfortunately not.
A product in the terminology used here (and in general used by the public) is a finished item, say a phone or a washing machine.
Per SCIP requirements, substances are to be listed and reported to ECHA at the smallest level, i.e. the article that is part of the product (or component) but cannot be broken down further; in other words, the smallest article (as such).
Here's a quick SCIP terminology reference:
An article is either an Article as Such or a Complex Object.
A product is an article, as are its components.
A complex object is composed of two or more articles.
An article as such, which we report to ECHA, is an article that cannot be dismantled into parts. It can, however, contain several listed materials.
Q: Which Substances Are to be Reported?
A: As of now, the candidate list of SVHCs directly comes from REACH. You have to report to ECHA any listed substance present in articles in a concentration above 0.1% w/w (weight for weight). The obligation to submit such notification covers all articles without exemptions to date.
Q: What Makes a SCIP Dossier so Particular?
A: Dossier is French for folder. In this instance, it is basically a snapshot of all the information collected grouped into an i6z extension file (think of it as a .zip file). It contains a variety of documents pertaining to data disclosure, which may be in PDF, MS Word, or XML format.
ECHA is very particular about file formats but the program will take care of the extension, so you don't have to invest in another type converter.
One other important characteristic of the SCIP dossier is the unique user ID – UUID - it receives upon submission. It's a one-time assigned identifier, meaning any update or addition attached to an article will be subject to a new submission and will be assigned a new ID in the process.
Q: What Are the Steps We Should Take to Get Ready to Submit a Dossier?
A: This is by far the most frequent question of all in regards to SCIP, and for good reason. While the IT obstacles can be addressed internally, data collection still remains a challenge, especially at such a precise level.
Collect the product and component data: work closely with product management teams and manufacturers and reach out to suppliers
Evaluate the data: run collected information against the substances candidate list and identify articles as such that are in scope
Generate a SCIP report
If the SCIP report says the data is complete and valid, then request a SCIP dossier
Generate a SCIP dossier and save it
Submit the SCIP dossier via the S2S process
Query the S2S system for updates on the dossier status
If accepted, update the dossier report with the data provided back from ECHA
If rejected, fix the errors and resubmit the dossier - go back to step 6
For more information on how to submit a SCIP dossier, see our blog: How to Gather Data and Make SCIP Database Submissions.
Q: Which Is Better: Manual Submission or System to System (S2S)?
A: You can manually submit a dossier to ECHA via their cloud or use their API for a system-to-system transfer. The validation process is the same either way, though the S2S option has the advantage to work with an existing integrative compliance system (which makes it easier to correlate data from diverse sources over several compliance programs). In any case, expect to have to check back regularly for the status of the submission.
Q: Do you have to have an ECHA account to submit to SCIP?
A: Yes, in order to submit, the entity responsible for importing the product into the EU must have an account. The address for the entity of the account must have an EU address in order for the submission to be allowed. However another may in fact make the submission, but must reference the importing entities account in the submission.
Q: What is the Secret Key and How Does the S2S System Determine Who the Submission is For?
A. The Secret Key is an ID assigned to the ECHA account for whom dossier is being submitted. This is used in cases where the business hires a third party to submit to ECHA on their behalf.
In order to receive a Secret Key, the client has to request one. We have discovered, however, that if the account does not have a EU address, the option to request a Secret Key is not available.
When a third party submits the dossier to ECHA via the S2S system, they use the Secret Key to generate what's called a JWT authentication object. The JWT is encrypted using the Secret Key, which ECHA will decrypt with their key.
Then, ECHA's S2S system uses the decrypted payload to authenticate the submission and tells it which account to apply the dossier. By being able to decrypt it with the Secret Key, it tells ECHA that this is a valid authentication and it will match up the JWT decrypted payload to the proper account. If they don't match up, it will fail the submission.
Q: When Should We Submit and How Long Does It Take to Be Green-lighted?
A: The best scenario is to submit a dossier when all data has been collected, reviewed, and verified. Based on our experience, that is quite unrealistic to expect all suppliers will provide the required data in a short timeframe.
The best option to reach some level of compliance is to prioritize high-risk components (and substances), submit, and update as new data comes in.
The green light and confirmation UUID comes after ECHA's system no longer detects issues that need fixing.
The program is still in its infancy, so there is a lack of historical data to clearly define a time range between submission and validation. We know, however, that issues can be very complex. Some invalid input may be revealed only after a previous issue has been fixed, in which case it is very much a game of back-and-forth.
Q. Does SCIP Compliance Have to Be so Time Consuming and Difficult?
A. SCIP submissions by nature are very complex. At Source Intelligence, we've followed this compliance requirement since its inception and our experts have closely watched its various revisions and quickly adjusted our solution accordingly.
At this point, it becomes clear this compliance program has merits but is technically and logistically challenging for businesses of any size to tackle without solid technology and available manpower.
We've developed a SCIP solution that makes it easy and affordable for you to not only collect data but also compile it into a SCIP dossier-ready format.
With the flexibility to quickly pivot should the ECHA announce new updates (which is very likely), the ability to quickly gather the data you need from your suppliers on one platform, and automating SCIP dossier submissions, our SCIP Database Program provides everything you need for easy compliance.
Our SCIP experts would be happy to give you a tour of our SCIP Database Compliance Program. Click the button below to request a demo and see what our solution can do for you!