With a SCIP database launch date set for October 2020 and a compliance deadline scheduled for early January 2021, ECHA (European Chemical Agency) is busy ironing out the details. As we have previously mentioned, the guidelines to build the datasets have undergone a series of changes and updates. Some specifics have yet to be finalized and there will most likely be more changes to come, but the latest update gives a clearer picture of what the process of gathering data and submitting dossiers to SCIP should be.
Creating Datasets for SCIP Database Submission


Arguably the most significant change ECHA brought to the SCIP database mechanics is the shift from its original cumbersome article-based dossiers to a more manageable, user-friendly, and relevant component type-based declaration.
Similar components (defined as parts that cannot be reasonably dismantled to a simple article and contain substances listed on the SVHC list) can now be grouped by category (for instance brass components) rather than be declared by part number. Product declarations will then link to the appropriate component datasets in IUCLID.
Product Grouping
For professional products, grouping characteristics shall follow these criteria:
A common name that accurately describes the product
Sub-names listing the different models available for the product (if applicable)
Products share the same customs code
Products share components that contain substances from the SVHC list
Component Grouping
Grouping components by type makes it considerably easier and ultimately better organized to fulfill the main purposes of the SCIP database with regards to bettering waste management processes and give consumers access to pertinent information on substances of concern present in the product they purchased or consider purchasing. One tertiary benefit of the database is more a long-term strategy for ECHA: being able to build a system that will allow data aggregation and loop back to REACH and RoHS to propose regulations amendments.
Components (or quasi-identical components) shall belong to the same group if:
They can be described by a generic name
They share the same customs code (HTS Code) or "other" to be as accurately described as possible
They share the same SVHC
They share the same materials code (for instance Metal: Brass)
They are simple article (also referred to as component and not a complex article)
This grouping feature allows one notification for several components in the same product.
Other Information to disclose and expected changes include:
Number of each type of components used in the product, or close enough. Precise quantity is not required.
EU production: the binary answer Yes or No changes to Yes/No/Both or N/A
Concentration range, but weight field goes away
SVHC list is expected to no longer be required. How ECHA intends to match declarations with the most current list is yet to be announced.
How to Gather Data for SCIP Database Submission
Regardless of the method in place to collect data on components – supplier-provided or resulting from engineering evaluations – it is necessary to implement a process that can be repeated and shared, specifically by using templates.
Product template
Component template
Using a standardized template cuts down the time spent collecting data and prevents missing out on the required information.
Roadmap to Data Collection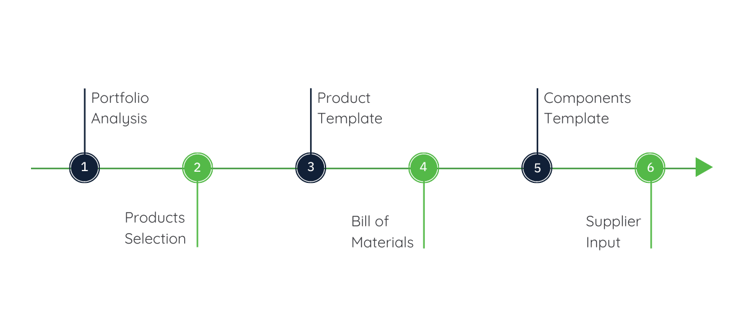 As with all compliance programs, data accuracy is often a concern. Are suppliers truthfully reporting information? Are existing MSDS up to date?
Resorting to perform engineering evaluations for all your products may prove costly and unrealistic within the timeframe. One thing is certain, you have to know what your products are made of down to the simple articles. Whether you task your production managers, product designers, or other in-house experts to break it down or outsource partially or in full to a third-party partner is up to you. Shielding behind a proprietary/confidential clause is unlikely to work or may prove extremely difficult to achieve.
Dossier Submission and Timeline
So far, the submission process has not changed. You create the data sheets and convert them to i6z format for SCIP database submission using the following steps:
1. Create a dossier:
You can create a PDF for your own records or export into your system
Export to i6z (i6z is the file extension of the IUCLID 6 zip file you need for the SCIP database submission)
Proceed to submission
2. Upload and submit your dossier to the ECHA Submission Portal:
Follow ECHA's tool to go walk through each submission step (this is not very user-friendly and can take some time)
Click submit
3. Once you submit, you will receive one of the following notices:
Succeeded: all clear
Succeeded: mostly clear, some review is necessary
Failed: one of the steps was not followed correctly and you will have to start over
Should you expect the deadline of January 5th, 2021 to be extended due to COVID-19 crisis like EU MDR? That would be a risky bet to place. ECHA is responsible for the SCIP database program, but the deadline is part of the EU legislation. Parliament would have to get involved and as of today, nothing hints at SCIP being on the EU legislative agenda for the next few months.
Navigating SCIP Database Submissions with Source Intelligence
With only a few months left to get ready, businesses have to decide how to efficiently divide (and conquer) the time between all their regulatory duties. At Source Intelligence, our goal is to make SCIP compliance easy. Whether you have data already gathered and need to outsource the individual dossier submissions or you need help with the entire process, we can do the heavy lifting for you and take SCIP off your plate.
Source Intelligence has been accompanying organizations through the maze of global compliance programs and the SCIP database submission is another area where we can assist:
Collect and validate data via our AI-powered automated platform
Create the datasets and prepare dossiers
Submit to ECHA on your behalf
Request a demo to see how our fully customizable SCIP solution can address your needs and make compliance easy.