How Your Supply Chain Compliance Programs Align With ESG Reporting
If you're new to environmental, social, and governance (ESG) reporting or have already started exploring the different frameworks, you may feel overwhelmed by the apparent complexity, the number of requirements, and how feasible it is to fulfill your obligations without heavily investing time and money.
The good news is you most likely aren't starting from scratch. No matter your size or industry, your company likely falls under the scope of various supply chain compliance programs for which you must collect data. The processes you have in place to reach out to your suppliers, gather information from them, consolidate documents, assess and manage risks, conduct audits, and take corrective actions will provide you with much of the data you need to start ESG reporting. From there, you can identify gaps and where to add additional resources rather than start from ground zero.
Conflict Minerals, REACH & RoHS, Modern-day Slavery, Cybersecurity, Corporate Social Responsibility (CSR), and many more programs can map to the factors that best match your ESG goals.
Let's look at two widely used ESG frameworks and how common supply chain compliance programs readily contribute to meeting their requirements.
UN Sustainable Development Goals
The UN's Department of Economic and Social Affairs, Sustainable Development has identified 17 Sustainable Development Goals (SDGs) that need actions to tackle global ESG pressing challenges:
No poverty
Zero hunger
Good health and wellbeing
Quality education
Gender equality
Clean water and sanitation
Affordable and clean energy
Decent work and economic growth
Industry, innovation, and infrastructure
Reduces inequalities
Sustainable cities and communities
Responsible consumption and production
Climate action
Life below water
Life on land
Peace, justice, and strong institutions
Partnerships for the goals
Not all 17 goals are material to your business or industry. The goals you choose should be areas where your operations are the most impactful and where you are able to drive the most positive changes internally and globally.
Mapping To UN SDGs
If one of your goals is Climate Action, information from Scope 3 GHG Reporting is an obvious starting point, but you can also tap into data from your palm oil sourcing program (if palm oil is present in your supply chain).
If you commit to responsible consumption and production, Conflict Minerals, REACH, RoHS, California Prop 65, and EU MDR are a good place to source this data, as are cobalt and ethical mica sourcing practices.
To put things in a different perspective, data collected through the most common Source Intelligence compliance programs can contribute to reaching:
10 environmental goals covering resources used, emissions, and innovation
13 goals in social issues from workforce to human rights, community, and product responsibility.
7 governance goals in management, shareholders, and CSR strategy categories.
Some compliance programs may cover all three areas of ESG by collecting relevant data.
The Sustainability Accounting Standards Board (SASB)
The SASB framework sets ESG standards and material topics for 77 industries designed to help companies and investors analyze the impact issues may have on financial performance.
GHG emissions
Waste and hazardous materials management
Product design and lifecycle management
Clean water and sanitation
Materials sourcing and efficiency
Labor practices
Employee health and safety
Employee engagement, diversity, and inclusion
Human rights and community relations
Data security
Product quality and safety
Selling practices and product labeling
Business ethics
Management of the legal and regulatory environment
Critical incident risk management
Systemic risk management
Supply chain management
Mapping To SASB
If you use the SASB standards, you will focus more on metrics that reveal growth potential.
Product Design & Lifecycle Management can exploit data from REACH, RoHS, SCIP, and California Prop 65; Materials Sourcing & Efficiency can be matched against ethical sourcing and materials tracing.
In the social dimension, more than a dozen of Source Intelligence's compliance programs help you address Human Capital and Social Capital.
As for governance issues, several solutions also fit the bill, whether in our ethical sourcing, vendor management, or materials management programs.
Aligning Compliance Programs With ESG Reporting
As the leading provider in supply chain transparency and visibility solutions, Source Intelligence offers nearly 100 compliance programs that leverage the power of AI to automate data collection, validation, and analysis for compliance reports. Our platform is a user-friendly environment not only for your teams but for your suppliers as well.
Thanks to a solution that increases supplier engagement, you collect data that is more accurate and allows you to map risks in your value chain with enhanced certainty. With such a centralized process, you can already launch many ESG processes with less to no manual work and redundancies.
ESG reporting is not exclusive to large corporations or publicly traded companies. It makes sense to start with the compliance programs that overlap with your ESG goals.
To give you a better view of how you can align ESG with your current programs, we invite you to download our white paper ESG Mapping: How Your Supply Chain Programs Fit Into An ESG Strategy.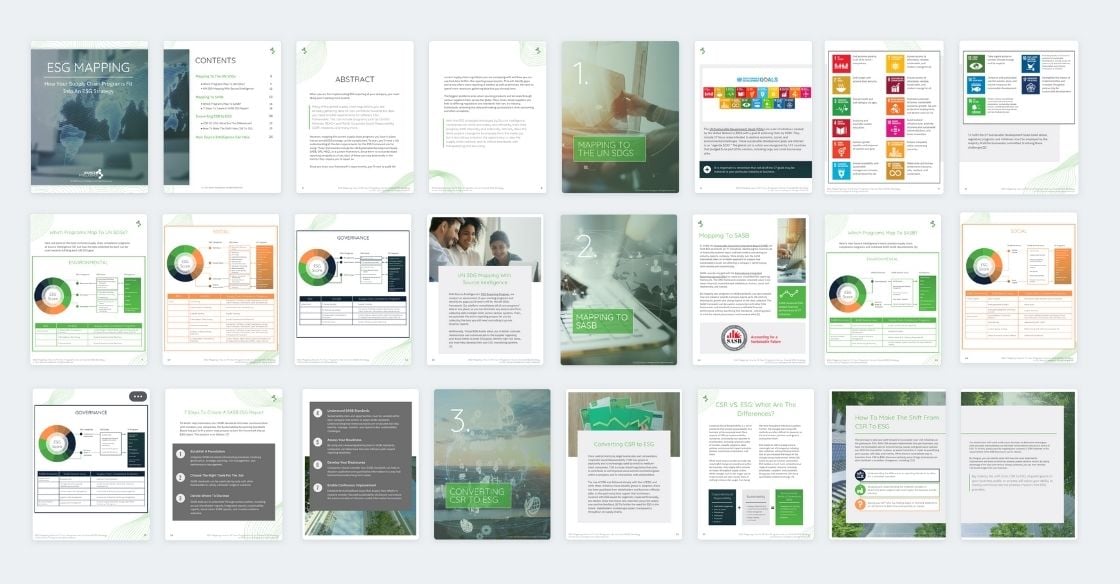 In this white paper, you'll learn:
Which programs map to UN Sustainable Development Goals (SDG)
Which programs map to Sustainable Accounting Standards Board (SASB)
7 steps to create a SASB ESG report
CSR vs. ESG: What are the differences?
How to make the shift from CSR to ESG reporting
How Source Intelligence can help
Download our white paper to learn more about ESG mapping or request a demo to see what our ESG solutions can do for you.