Is Uyghur Forced Labor Lurking in Your Supply Chain?
Over the past two years, the Xinjiang Uyghur Autonomous Region of China (XUAR) has been catapulted into the spotlight and not for the right reasons. Due to geopolitical tensions, the widespread use of forced labor, detention without trial, torture, and other intimidation techniques have come to light. As a result, the United States signed into law the Uyghur Forced Labor Prevention Act on December 23, 2021, a bipartisan bill to ensure that goods made with forced labor in the XUAR do not enter the United States market.
These human rights violations are targeted towards Uyghur Muslims and other minorities. Over 100,000 people are estimated to be in these camps, and there are as many as 1,200 camps spread across the Xinjiang region.
As a 2019 report by the CSIS Human Rights Initiative states, this is believed to be the largest-scale detention of religious minorities since World War II.
The quickly rising issue of forced labor and human rights abuses in the XUAR headlines the news on a daily basis. More and more details emerge on the humanitarian crisis and its implications for businesses the world over, in particular, the growing challenge of gaining supply chain transparency and what remediating actions can be deployed to eradicate modern-day slavery from supply chains.
To ensure that goods made with forced labor in Xinjiang do not enter the United States market, the Uyghur Forced Labor Prevention Act will systematically refuse the entry of goods into the US market unless companies can prove beyond doubt that they are not, and Customs and Border Protection is able to determine that they weren't "manufactured by convict labor, forced labor, or indentured labor under penal sanctions."
In this article, we explore which sectors are most at risk of unknowingly supporting forced labor in China and how businesses can best address the lack of transparency and visibility in their most complex supply chains.
Top Products Exported from XUAR
The region is particularly productive in the apparel and footwear sectors but is also exporting electrical machinery, toys, and plastics. The XUAR is an important source of raw materials such as cotton, rare earth minerals, natural gas, and oil.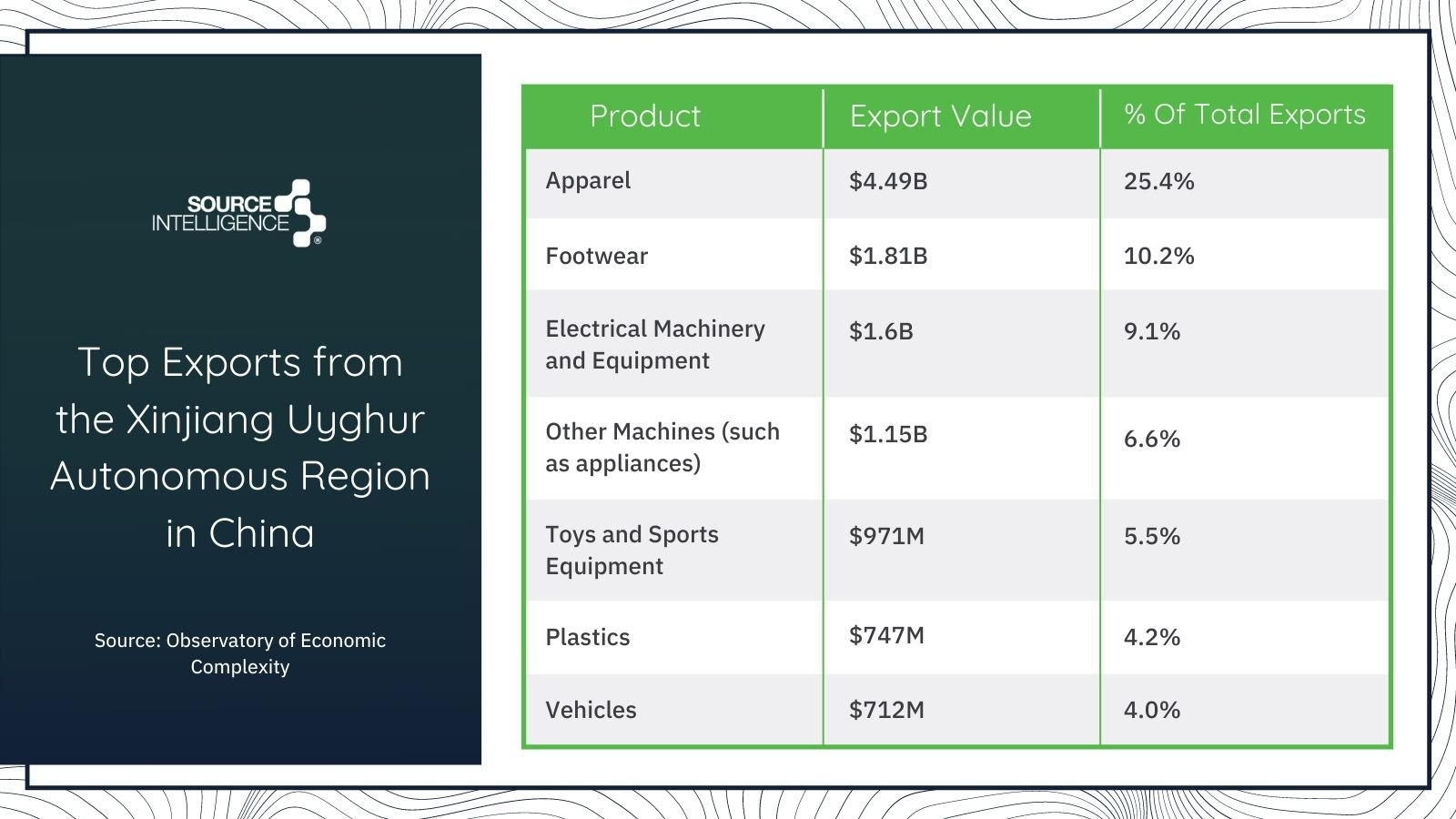 This data is only the tip of the iceberg. Under the cover of its poverty alleviation program, China transfers the workforce from Xinjiang to other provinces in the country via a region-pairing system. Most reports reveal some 62,000 workers have been transferred in 2018. A report from the Australian Strategic Institute advances that 80,000 Uyghurs were sent to work in other factories across China between 2017 and 2019.
To gain even more perspective on the scale of forced labor seeping in supply chains, Xinjiang produces over 20% of the world's cotton and is the third-largest producer of cashmere. With so many sought-after resources, the region is naturally a supplier hub of choice to a staggering number of organizations in China alone, when not a direct source to foreign manufacturers and importers.
The products most imported to the United States include chemicals, food, hair products, metals, minerals, and of course apparel.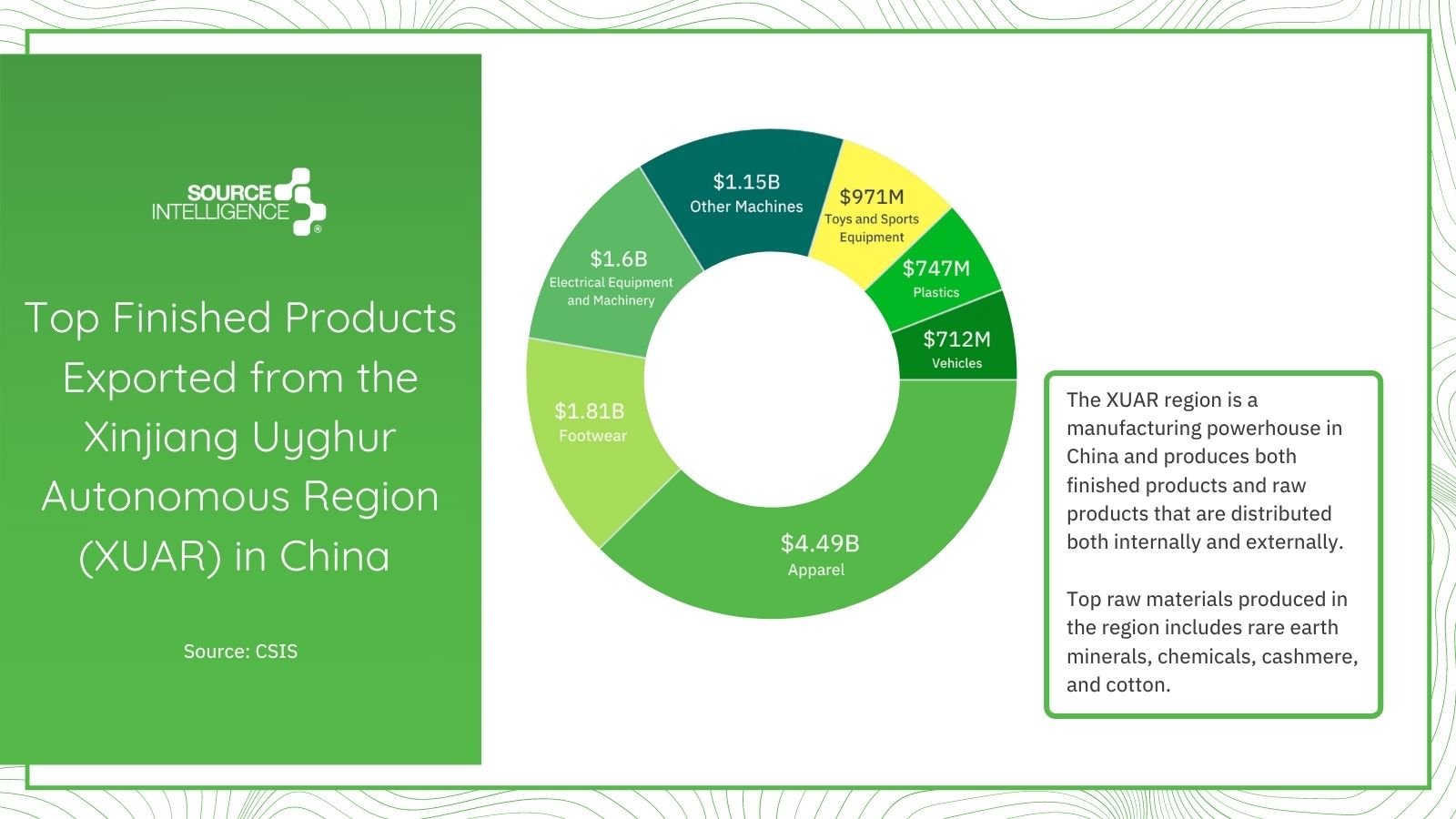 Escaping the Dark Cloud: What Businesses Can and Should Do
On average, a US company deals with 500 direct suppliers. The full picture of the supply chain often adds up to ten times more, making it nearly impossible to maintain some level of control at every tier. Yet, it is a business's social responsibility to engage downstream suppliers and obtain data pertaining to their own network of partners.
The major challenge in determining involvement with Uyghur forced labor is access to information, or rather lack thereof. The region is mostly under surveillance and administration by the Xinjiang Production and Construction Corps (XPCC), a state-owned economic and paramilitary organization known for helping build detention facilities and committing repression acts on Uyghurs.

The XPCC has stakes in more than 800,000 companies and groups in 140 countries. Despite the fact that the US placed three of its officials on a sanctions list, such widespread reach illustrates the level of infiltration at which forced labor exists in supply chains.
Traditional due diligence methods fare no better. XUAR is notoriously impenetrable, so NGOs, journalists, or field auditors have no opportunity for an onsite survey of systems, processes, and work conditions.
Suppliers involved directly or indirectly with facilities employing detainees or ex-detainees are not keen on volunteering information, either by fear of repercussions or by deeply and historically ingrained allegiance to Chinese authorities.
To complicate matters further, ownership structures are often convoluted to the point of being impossible to sort out.
Leveraging Other Forms of Data Collection: Source Intelligence Uyghur Forced Labor
For companies to clearly map out their suppliers' networks and identify red flags, sourcing due diligence is really only possible via technology integration.
Source Intelligence's Uyghur Forced Labor Prevention Act program is designed to accurately identify risks and deliver actionable insights.
Risk Assessment and Dynamic Reporting
Through a dynamic and collaborative platform fed with aggregated global data, suppliers can be tagged based on location, names, and known aliases, local labels (i.e. mandarin characters that can be translated and reveal further details), IP addresses, and more. These are then displayed on an interactive map that highlights which suppliers are at risk.
Automated daily supply chain audits quickly report areas/partners of concerns, so you can take timely measures to mitigate and eliminate risk.
Get Started Today
To date, large companies are starting to publish their due diligence efforts to identify and remedy forced labor in their global operations. Marks & Spencer has set a precedence by publicly committing to the issue.
If passed, the Uyghur Forced Labor Prevention Act will officialize the presumption of guilt unless proven innocent; a concept already largely adopted by consumers and NGOs for all things linked to Xinjiang.
For Source Intelligence, ethical sourcing is not limited to compliance programs. We dedicate our work to assisting businesses large and small in their CSR efforts, protecting their reputation, and conserving their competitive advantage.
Request a demo to see how we can make weeding out forced labor and other human rights issues in your supply chain both easy and affordable.