5 Kinds of Modern-Day Slavery Lurking in US Supply Chains Today
We may believe slavery has been abolished in most of the world. Unfortunately, modern-day slavery capitalizes on people's vulnerability, discrimination, and general lack of law. In fact, only 7 of the G20 economies have regulations in place to lower the risk for companies to import or manufacture goods issued from forced labor.
Organizations often lack supply chain visibility, especially in the lower tiers. Considering the number of goods and derived products reported to directly or indirectly link to forced labor rings, it is nearly impossible to state with absolute certainty that your entire supply chain is clean. Unless you have accurate due diligence procedures and policies in place, you can't be sure your supply chain is free of exploitation.
Modern-day slavery takes many forms, some with which we are sadly familiar, some less.
The United States imports $144 billion worth of goods that rank in the top five high-risk goods: electronics, garments, fish, cocoa and sugar. In this article, we're highlighting the 5 most common kinds of forced labor that sneak their way into US supply chains today.
Child Labor
Forced child labor is not about hiring the neighbor's kid to mow your lawn, nor having your children occasionally help in the business. Child labor involves depriving children of their childhood, exposing them to mental, physical, social or moral harm, enslaving them to perform dangerous work and/or interfering with their schooling.
According to a study by UNICEF, in 2019 there were:
More than 134 million children are in forced labor
Around one in four children between the ages of 5 and 17 are involved in dangerous work (like mining) in the world's most underdeveloped regions
Girls are just as likely as boys to be forced into child labor
Although there are many supply chains where you can find child labor, Mica and Cobalt sourcing have been top on agendas discussing human rights policies. Both Mica and Cobalt supply chains have been known to use children as young as 4 years old to work long hours in dangerous mines. There have been many reported deaths, including an incident in 2019 when a cobalt mine collapsed killing 43 children.
Bonded Labor
Bonded labor, also referred to as debt bondage and peonage, is when people have no choice but to enter slavery to secure a loan or repay a debt, contracted or inherited.
Despite the International Palermo Protocol requiring the criminalization of bonded labor, the practice is common in India, Pakistan, Bangladesh, Nepal.
It often spreads beyond borders in the form of human trafficking. People borrow money to secure a job in another country. Upon arrival, the traffickers confiscate their passport and put them to work until the debt is paid off.
The terrible truth is that the debts can almost never be repaid. Working for little to no pay, people keep borrowing to the employer to be able to pay for lodging and other necessities, constantly adding to their tab.
ILO estimates that 8 million people worldwide are affected.
State Imposed Labor
Another kind of forced labor is state-imposed labor, i.e. when a state exploits workers for its own benefit.
Compulsory labor occurs when authorities force citizens to work, at times of harvest for instance or after an economic crisis to boost development.
Prison or detention camp labor is when detainees have to work for less than the legal minimum pay, or in some cases no pay at all and/or under torture or intimidation.
The practice of compulsory labor is most common in Eritrea, Burundi, and North Korea. North Korea also imposes employers of citizens working in foreign countries to pay their salaries to the regime, or workers must give up to 90% of their salaries back to their homeland.
Migrant and Indigenous People Exploitation
Some minorities are more affected by forced labor due to discrimination or extreme poverty. Migrants and indigenous people (especially in South America) fall victim of modern-day slavery out of necessity.
Exploiting the fragility of their situation, unscrupulous employers pay them a pittance, impose dire and dangerous working conditions, completely disregarding safety and health. Why take care of your employees when you have a near unlimited supply of people desperate to earn a living and can increase your profits by taking shameless shortcuts? We hardly ever consider that the tomato sauce we use may have cost lives that could have been spared until it hits the news wires and makes us more aware of slave labor.
Such exploitation is common in seasonal industries like farming, construction, or janitorial services.
Human Trafficking in the Private Economy
Modern-day slavery in the US is real because most victims are working for the private economy. That's a profitable business and dismantling the system or fighting the quid-pro-quo requires strong ethics and specific efforts, especially when regulations and laws are lacking.
The Department of Labor lists 148 goods and 418 line items produced in 76 countries by child labor or forced labor. Nearly all supply chains harbor one form or another of human trafficking or abuse: farming, mining, construction materials, fishing, leather goods, garments, and even surgical instruments.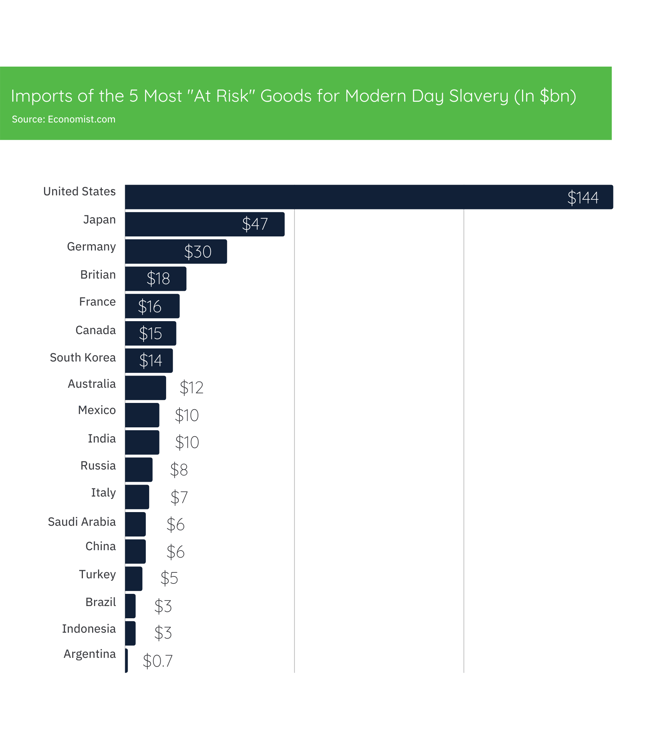 The Future of Modern Day Slavery Due Diligence
The U.S. Department of State, along with the U.S. Department of the Treasury, the U.S. Department of Commerce, and the U.S. Department of Homeland Security recently put Xinjiang under the spotlight by issuing a Supply Chain Advisory, highlighting risks of forced labor that could break several US laws or even prompt criminal investigations against US importers. The European Commission announced it has a mandatory human rights reporting policy in the works as well.
If this kind of activity and the frequent reports by journalists are any indication, the situation is constantly evolving, and more and more violations of human rights are uncovered and documented. Even if there aren't current policies in place to stop modern day slavery in supply chains, businesses can be proactive by adopting a due diligence solution that ends unknowingly supporting forced labor. At Source Intelligence, we make this easy, attainable, and cost-effective for businesses.
Source Intelligence is committed to fighting modern-day slavery in the US and globally. Our solution follows the OECD due diligence programs and leverages the power of Artificial Intelligence to create a dynamic and collaborative system accessible to businesses. We gather data and documentation from your entire supply chain, virtually audit your suppliers and show you which ones are at high risk, and provide you with data on your supply chain you won't find anywhere else.
Supply chain transparency and visibility are the key conditions to not only comply with the law but with consumers' expectations.
Request a demo to see how our anti-human trafficking program works and what it can do to drastically increase your supply chain transparency.