The EU has been deploying several initiatives identified in its ambitious 2015 Circular Economy Action Plan, aiming to achieve climate neutrality in the Union by 2050. At the core of this plan is the necessity and urgency to produce "less waste, more value" and to protect both the environment and human health. This will be achieved by rolling out policies that support waste prevention.
It is estimated that up to 80% of products' impact on the environment is determined at the design phase. The action plan proposes to rethink the stages of the lifecycle of a product, correct deficiencies, and improve processes whenever possible, from design, production, and consumption to waste management.
Some specific legislation and regulations are already in effect that are designed to improve waste management efficiencies and ultimately encourage organizations to develop more sustainable products. One such program is the revised Waste Framework Directive (WFD) that came into force in July 2018.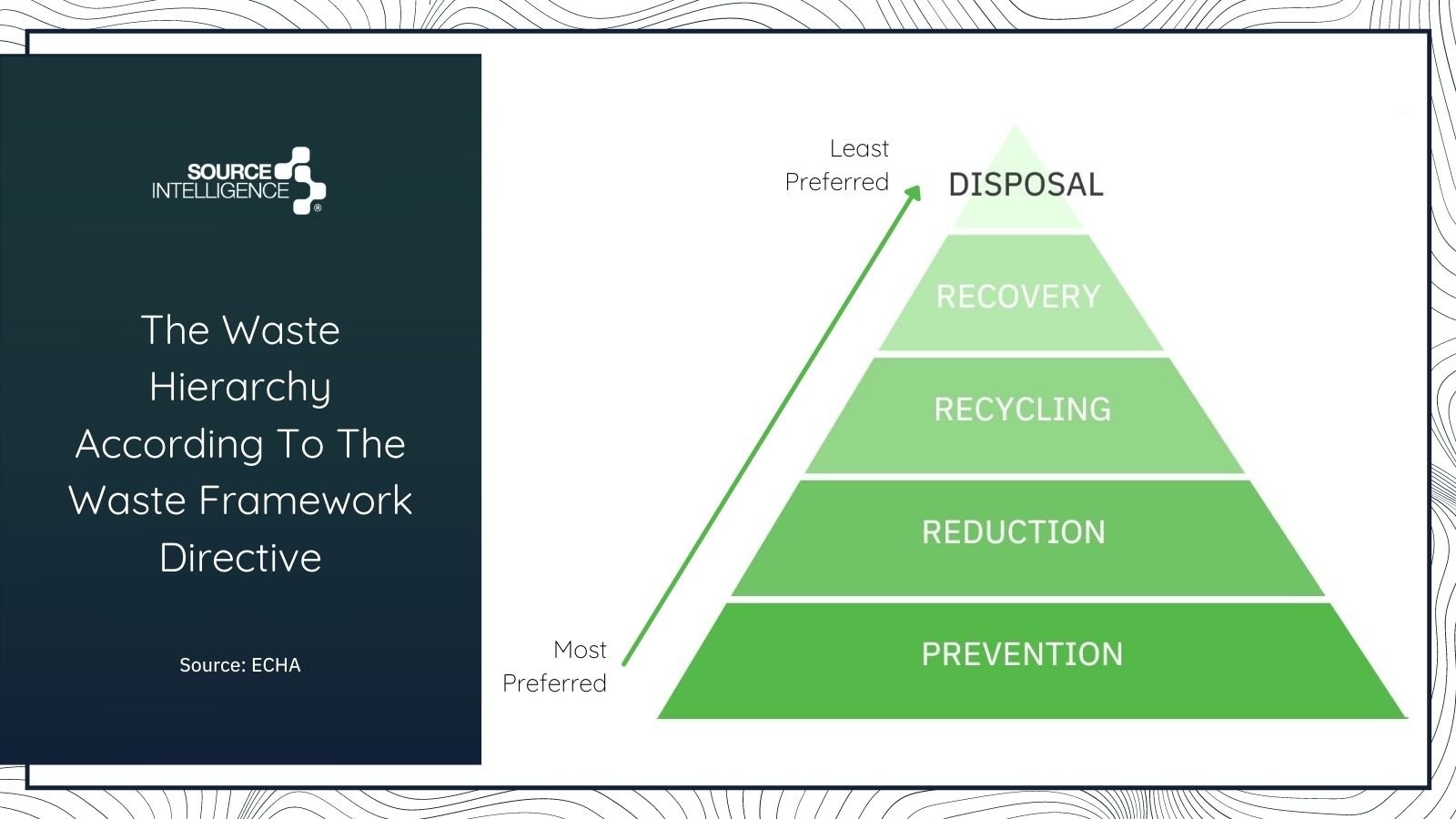 Key Points Of The Waste Framework Directive
1. Waste Prevention And Management
The Waste Framework Directive improves waste management operations at each level by setting standards for:
Collection
Transport
Sorting
Recovery
Disposal
It prevents adverse impacts by reducing the quantity of waste generated, through extending the lifespan of products, and by monitoring hazardous substances in materials and products.
2. Encouraging And Supporting Sustainability
The Waste Framework Directive lays comprehensive measures to steer businesses toward manufacturing greener products. Some areas of improvement include:
Increasing durability and reusability
Looking for opportunities to upgrade vs. replace
Increasing safe recycled content
Monitoring end-to-end carbon footprint
Strengthening single-use restrictions
Minimizing premature obsolescence
Increasing resource use efficiency
Addressing the presence of hazardous chemicals
Researching greener material alternatives
The legislation prioritizes the actions of waste prevention and management as follows:
Prevention
Preparation for re-use
Recycling
Other recovery, e.g. energy recovery
Disposal
3. Key Product Chains
Although the directive doesn't discriminate against products on the basis of waste, its urgent objective is to address key value chains in response to the climate change crisis and the attached volume of waste and/or potential toxicity. These include:
Electrical and electronic products, of which less than 40% are recycled in the EU
Batteries and vehicles
Packaging methods and materials
Plastics, whose consumption is still expected to double within 20 years
Textiles, largely under-recycled or repurposed
While the focus may be placed on those products in general in the WFD and in other European directives specifically, all products are potentially affected by the waste directive and its offspring, the SCIP database.
How Does The SCIP Database Fit In?
One of the biggest challenges faced in waste prevention and management is gaining access to accurate data about the product's materials and substances used. There is little use for a directive if waste materials are not clearly identified, or, to be more exact, reported, hazardous materials in particular.
With the goal of making the Waste Framework Directive an actionable plan, the EU has mandated the European Chemical Agency (ECHA) to design a platform where companies in scope submit dossiers reporting the presence of Substances of Very High Concerns (SVHCs), per REACH's list, in the simplest components of their products.
This SCIP (Substances of Concern in Products) database will provide waste management operators with the data they need to safely handle recycling or disposal of waste materials and minimize their negative effects on human health and the environment. A secondary purpose of SCIP is to make the data accessible to the public so they can make informed purchasing decisions.
Compliance with the SCIP database has been mandatory since January 2021 for all manufacturers, importers, and distributors placing products on the European market.
Substances of concern present at 0.1% weight-for-weight concentration or more in parts that cannot further be dismantled must be disclosed to ECHA via SCIP.
This ever-growing catalog of products will serve as a traceability tool to monitor the SVHCs all through the lifecycle of the product.
SCIP Compliance Process
If you are affected by any of the (many) compliance programs out there, you know the difficulty in obtaining information and the sometimes-lengthy back-and-forth process to reach a satisfactory level of completeness.
The SCIP program is known for compliance complexity due to its need for precision and extensive data from businesses' entire supply chains. Some have argued the level of involvement needed to adhere to the requirements far exceeds its usefulness and may incur unjust/prohibitive costs.
What do you have to do to comply? Simply put, you only have to report substances of concern.
How you do it is more complicated. Here is a breakdown of the steps to take to prepare for submission:
Collect product and component data: work closely with product management teams and manufacturers and reach out to all your suppliers
Evaluate the data: run collected information against the substances candidate list and identify articles as such that are in scope
Identify data gaps and promptly address discrepancies, missing information, etc.
Generate a SCIP report and submit it in a specific format to ECHA
When, and only when, ECHA indicates the data is complete AND valid, can you request a SCIP dossier. At this point, there could still be some issues where ECHA identifies some errors that need to be fixed.
See our article "How to Make SCIP Database Submissions" to learn more.
Not SCIPing Alone: How Source Intelligence Can Help
The Waste Framework Directive is an ambitious and commendable initiative, as is the entire Circular Economy Action Plan the EU has set in motion to reduce waste while producing more value for its economy and consumers.
It seems it comes at the expense of businesses large and small that are burdened with requirements mobilizing a lot of energy and financial resources.
It needn't be that way. We've designed our SCIP compliance program the way we design all our compliance solutions:
Flexible, Customizable, and Scalable
Automated
AI-powered
Supportive
Cost-effective
We will help you:
Identify articles that contain candidates list substances
Assess data gaps and identify high-risk articles
Gather the information you need from your suppliers
Automatically roll up data into approved-format SCIP dossiers
Our SCIP experts would be happy to give you a tour of our SCIP Database Compliance Program. Click the button below to request a demo and see how you can easily comply today!