Responsible Sourcing and Sustainability Goals
Electrolux is an industry-leading global appliance company. Between their brands, including Electrolux, Frigidaire, and AEG, the company sells around 60 million household products across approximately 120 markets each year. Electrolux is also striving to be at the forefront of sustainability with bold goals for 2030 and a primary objective of achieving climate neutrality throughout its value chain by 2050. The company releases an annual sustainability report highlighting priorities and progress toward its sustainability goals. Creating this report requires extensive data collection on mineral and material sourcing and supply chain risk. To help streamline the data collection process, Electrolux began investigating responsible sourcing software solutions.
The Source Intelligence Responsible Sourcing Solution
In 2016, Electrolux partnered with Source Intelligence for Conflict Minerals and Extended Minerals reporting. With these solutions, Source Intelligence supports Electrolux throughout the process of creating a conflict minerals report (CMR). Electrolux provides their supplier information and Source Intelligence's team takes care of the rest, including requesting Conflict Minerals Reporting Templates (CMRTs) from suppliers, collecting and assessing the supplier data, identifying potential risk, and providing data reports. Source Intelligence's subject matter experts also help answer any questions that Electrolux's suppliers have related to completing the CMRT and verify that suppliers are utilizing the latest templates provided by the Responsible Minerals Initiative (RMI).

With Source Intelligence's streamlined data collection process, along with its resources and internal expertise, Electrolux can seamlessly collect supplier data and file a conflict minerals report annually.
Responsible Sourcing Program Success
Since 2016, Electrolux has been able to provide its stakeholders with the company's responsible sourcing data in the form of a CMR. After the publication of its most recent Sustainability Report, one of Electrolux's largest customers requested information about its conflict minerals reporting and due diligence efforts. The customer also explained that receiving this information was mandatory for their continued business. Thanks to the underlying work completed by the team at Source Intelligence, Electrolux was immediately able to provide the customer with its most recent CMR and keep its business. Each year, a few major customers have similar requests and Electrolux is always able to deliver.
"We do not have to report on our use of conflict minerals, but we do it because it is the right thing to do. Source Intelligence offers us exactly what we need and is a professional, friendly partner. I appreciate that their team always provides quick, insightful responses whenever I have questions. As a customer, I feel seen, heard, and respected. We look forward to continuing to work with Source Intelligence."

Jorgen Karlsson – Electrolux Program Manager, Responsible Sourcing
| | |
| --- | --- |
| 10/10 Net Promoter Score | Exceeded Supplier Response Expectations |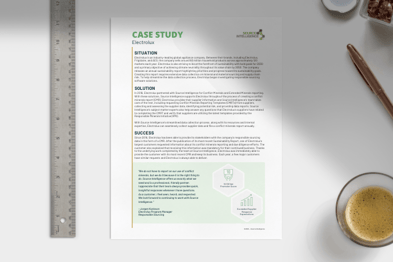 The Source Intelligence Responsible Sourcing Solution

Our award-winning Responsible Sourcing Solution is designed to comply with due diligence requirements for both Section 1502 of the U.S. Dodd-Frank Act and the EU Conflict Minerals Regulation. The customizable, technology-driven platform requests and collects Conflict Minerals Reporting Templates (CMRTs) and Extended Minerals Reporting Templates (EMRTs) from your suppliers to gather data on the origin of 3TG, cobalt, and mica in the supply chain. The platform also allows you to monitor supplier responses and analyze supplier data with concise, visual reports.

What does this mean for you? Simple, effortless compliance. We've helped thousands of companies achieve comprehensive supply chain transparency. Request a demo today to discover how our Responsible Sourcing compliance software can make a difference.