Demand for minerals has been steadily increasing for decades, responding to the needs of intense industrialization, urban development, and population growth. With a global population expected to reach 9.5 billion by 2050 and cities likely to be the most densely populated regions, demand for minerals, metals, and coal will increase in proportion.
An ever-increasing demand for minerals predominantly used in products such as electronics, jewelry, and cosmetics raises concern as to the impact sourcing will have on human rights. More specifically, sourcing minerals from the Democratic Republic of Congo (DRC) to meet production needs heightens the risks of introducing conflict minerals in the supply chain.
Tin, tungsten, tantalum, and gold (3TG) are already subject to due diligence regulations on conflict minerals, but cobalt, a highly sought-after mineral needed for energy storage, has yet to be regulated. In any case, the depth of global supply chains requires organizations to strengthen their compliance initiatives to prevent human rights abuses.
DRC Minerals: The 3TG
Tin, tungsten, tantalum, and gold are minerals necessary to produce a wide variety of products and demand is not faltering anytime soon.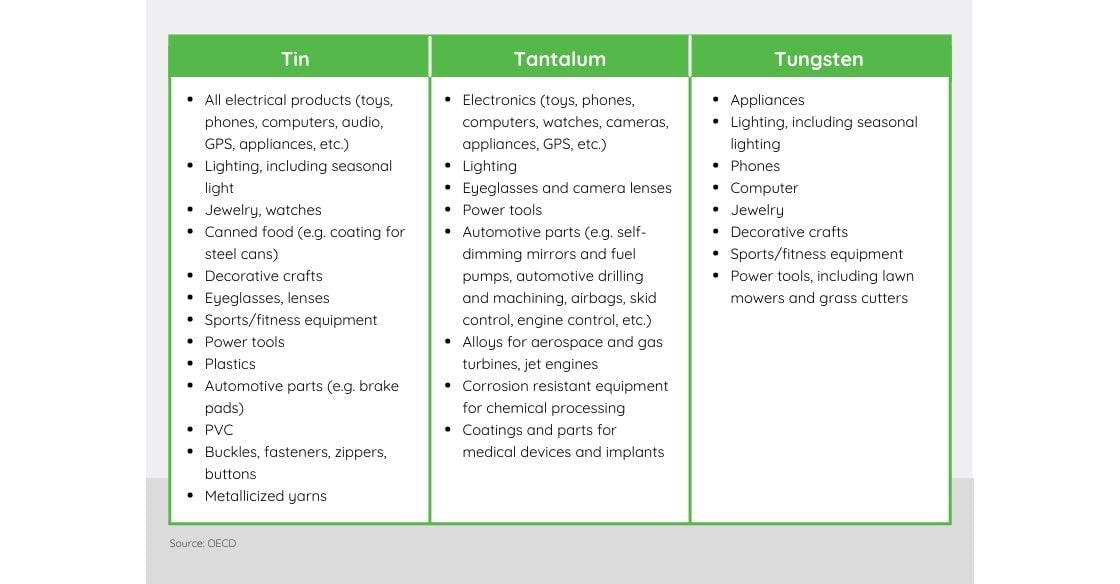 While importers may source from various countries not associated with human rights issues, most of the mining takes place in the DRC. While there are many suppliers in the DRC that are using ethical practices, just as many use child labor and infrastructures that are failing to the point of being unsafe. The only way to be sure you are sourcing from the right suppliers is to trace your minerals to their source.
Tin
According to the WSJ, the price of tin increased 46% in 2021 and is close to record highs. Demand for consumer electronics mainly drives the spike, though Covid-19-hit 2020 has made it difficult to secure shipments out of Asia.
Tungsten
Per GM Insights, the tungsten industry will grow by a CAGR (Compound Annual Growth Rate) of 8% through 2025. Electronics, automotive, aerospace are industries that contribute the most to global market growth.
Tantalum
A study by Research and Markets reports that the tantalum market may grow by 669.75 MT (Metric Tons) between 2020 and 2024. While smartphones and superalloys top the list explaining the increase, demand for implants will be one of the key market drivers.
Most of the mineral production comes from Rwanda and the DRC (60% of global production). As of today, the US is 100% dependent on the importation of tantalum.
Gold
Gold supply must satisfy two different market demands:
Consumer goods like jewelry and technology
Central banks and investors
According to Mining[dot]com, despite the pandemic forcing some operations to shut down, gold prices have hit a 22% increase in 2020. In fact, when gold recycling is taken out of the supply/demand market, gold production cannot meet demand.
DRC Minerals: The Special Case Of Cobalt
Cobalt deposits are mostly found along the so-called African Copper Belt; the DRC holds half of the global reserves and produces over 60% of global needs. Incidentally, China has a near-monopoly of cobalt output and sources over 90% of its supply from the DRC.
Why are we expecting an increase in demand, and why could it spark more human rights abuses in the DRC?
Products that contain cobalt include cosmetics, superalloys, and power generators. Its most recent application, however, is in rechargeable batteries for electric vehicles, computers, phones, and energy storage in general.
Ironically, what is contributing to preserving the environment and reversing the effects of greenhouse gas emissions may trigger an increase in sourcing from unethical suppliers in the Democratic Republic of Congo. Profits from cobalt mining may fund illegal army factions and lead to more corruption, coercion, and basic human rights violations.
It's imperative that companies do their part to ensure their 3TG minerals and cobalt are coming from ethical sources to prevent contributing to human rights abuses. Doing so can be complicated or nearly impossible to track manually due to expansive, multi-tier supply chains.
So just how can businesses ensure their materials are coming from the right suppliers? That's where Source Intelligence comes in.
Sourcing Cobalt From The Right Place: Supply Chain Due Diligence
Socrates Economou, head of nickel and cobalt trading at Trafigura, estimates that cobalt supply will have to double by 2030 to meet demand.
Organizations must double down on their due diligence efforts to ensure supply chain transparency and implement a reporting methodology as more and more NGOs and consumers call for supply chain accountability in cobalt and DRC minerals sourcing. Governments across the world are also closely monitoring the situation, which means cobalt could soon make its way to legislation that recognizes it as a conflict mineral in its own right.
Source Intelligence, the leading provider of supply chain compliance and ESG solutions, has developed an automated Cobalt Reporting Program to help you trace the origin of cobalt in your supply chain. Our Cobalt Reporting Program tracks the origin of the cobalt in your products to the smelter. We follow and are in accordance with the OECD Due Diligence and the Responsible Minerals Initiative (RMI) to provide real-time data and mitigate risks.
If you want to learn more about running a cobalt due diligence program, our Cobalt Compliance Guide will answer your questions.
In this whitepaper, you will discover how to conduct a Cobalt Supplier Assessment, covering risks in:
Environmental impact
OHS conditions
Human Rights
Community Engagement
You will also be guided through the stages of this program all the way to the final reporting phase.
Download our white paper to learn more about Cobalt Reporting or request a demo to see what our Cobalt solutions can do for you.