The traditional definition of a myth is a story of events bearing explanation toward practices, experiences, beliefs, or natural phenomena. How is it relevant to supply chains? There are many ideas about supply chain risk that can be considered myths. Events, disruptions, and news force us to reconsider things we previously thought were true.
Let's go ahead and bust some supply chain myths that professionals commonly adopt.
Ethical Sourcing and Geography
Myth #1: None of the products or materials you source is associated with unethical practices.
Whether you are sourcing from India, Africa, China, or even from your own backyard, you may be unwillingly and unknowingly supporting modern-day slavery and/or contributing to funding armed conflicts and/or indirectly inflict a negative impact on the environment.
Take a look at your product portfolio and the components that make up those products. To name a few:
Mica: drywall, shingles, automotive paint, insulation material, plastics, cosmetics, oxygen breathing equipment to name a few all contain mica. Mica mining is linked to child labor and human rights abuse if you're sourcing from the wrong suppliers.
Conflict minerals: tin, tungsten, tantalum, and gold, or 3TG, are considered conflict minerals. Electronics, jewelry, eyeglasses, phones, and nearly any product of our daily life contains at least one of the 3TGs. These minerals are known to fund war crimes and human rights abuses if you're not certain you're supplying from ethical places.
Cobalt: aerospace, appliances, batteries, ceramics, even some food like chocolate! Cobalt can be found in a surprising variety of products and sourcing from the wrong suppliers can mean funding human trafficking and child labor.
Cotton: high-quality cotton may not be a rare commodity, but some regions of the world are renowned for their cotton production along with other sought-after resources, which the Xinjiang Uyghur Autonomous Region in China (XUAR), for instance, doesn't lack. Nearly 80% of cotton from China is produced in the XUAR, which means approximately 1 in 5 pieces of China-made clothing contains XUAR cotton. This region is known to take Uyghur Muslims and other minorities and force them to work in forced labor camps.
Palm oil: this ingredient is in an increasing amount of products. Palm oil is produced mainly via heavy deforestation and wildlife destruction, not to mention human rights abuses and exposure to health hazards. Are you exclusively sourcing Certified Sustainable Palm Oil?
Tracing your supply chain upstream to the sources of each raw material is the only way you can be certain that none of your products are contributing to unethical practices around the world. - Click to Tweet.
Cybersecurity
Myth #2: Internal IT is enough to keep your data safe.
Depending on the complexity of your supply chain, many more people than you think may have access to your systems, from employees to third-party vendors to suppliers. Whether it stems from a justified need to share information or just an oversight, cybercrime doesn't target only big corporations and is increasingly common.
How well you protect all your data is not the only concern. It is critical that you know your suppliers are taking appropriate measures to secure their own, especially if they possess proprietary information about your products and sourcing habits.
Supply chain cybersecurity risk management is too often brushed aside as unnecessary, mostly due to a lack of awareness. As a result, many companies are dangerously under-protected, exposing their entire operation to costly disruptions.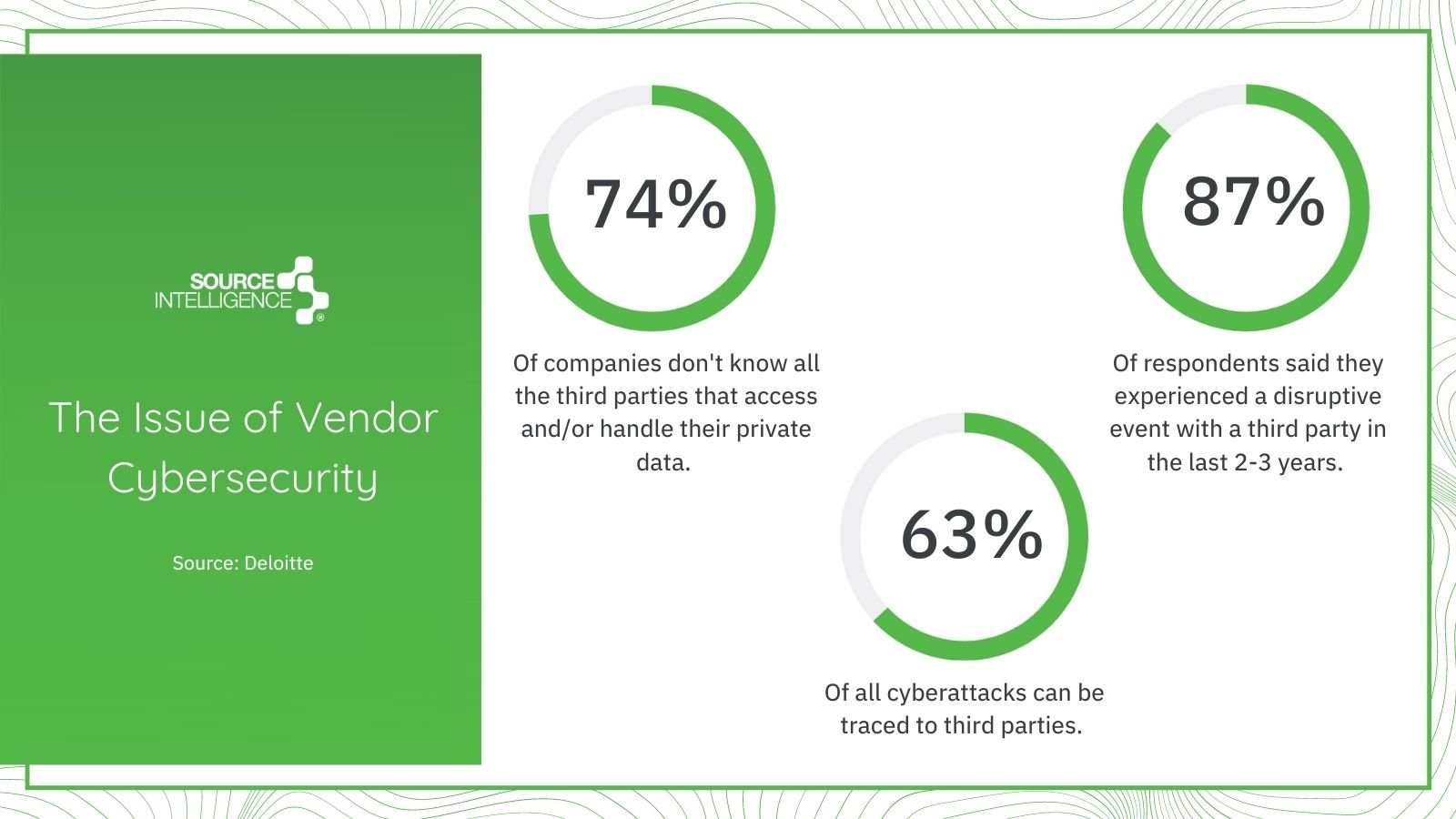 Supplier Business Practices and Compliance Profile
Myth #3: Vetting your suppliers before onboarding ensures their long-term commitment to compliance.
Due diligence in the vetting process is certainly paramount, but it is far from being enough on its own. Only ongoing audits allow you to keep supplier profiles current and accurate. You need to be able to check your suppliers regularly on a variety of criteria:
business ethics
product safety and compliance
environmental impact
quality
Mass on-site audits are becoming a thing of the past. They're expensive, resource intensive, and may prove unsafe due to the current pandemic.
Turning to a 100% electronic auditing process allows you to mobilize resources and easily map risk areas. Data is compiled through AI which in turn delivers segmentation insights. Based on suppliers' scores, it is up to you to decide whether yearly or more frequent virtual audits are necessary.
Supply Chain Transparency
Myth #4: Supply chain transparency is important only for the first tier.
You must feel that the pressure to increase end-to-end visibility is mounting. From government regulations to NGOs, stakeholders, and customers, supply chains are under scrutiny. The complex and global nature of sourcing makes it difficult to have a complete picture of what is happening at any given time. As a consequence, many businesses have limited visibility, are unsure of existing capabilities to capture information, or have simply given up trying to map out their entire supply chain.
Using a cloud-based supply chain platform will widen your understanding of your supply chain far beyond your direct suppliers.
By engaging with suppliers and providing education, they can in turn contribute to simplifying reporting and compliance achievements, be it regulatory or at the corporate level. - Click to Tweet.
Leveraging Technology Solutions
Myth #5: Supply chain risk management is expensive and complicated.
We'll gladly bust this myth once and for all. At Source Intelligence, we designed a SaaS solution with busy supply chain professionals in mind. We make compliance with over 50 regulations easy and affordable for businesses of all sizes with our scalable programs.
Thanks to a centralized database, you access and obtain information on your suppliers across the full spectrum of potential risks, some of which include:
Geography
Materials
Historically reported risk levels
Black-listed companies
Supply chain media monitoring
Regulation updates
Based on data analysis, our programs provide you with risk mapping, trends, and simulations so you can deploy risk mitigation strategies and minimize the need for remediation.
Request a demo today for a more comprehensive tour of our platform.