Newell Brands Conflict Minerals Reporting Case Study
A Robust System to Manage Conflict Minerals Reporting
Newell Brands is a trusted leader in consumer goods comprised of more than 100 recognizable brands such as Rubbermaid®, Crock-Pot®, Sharpie®, and Coleman®. As a company focused on ESG initiatives, they needed a robust system to manage conflict minerals reporting. Before teaming up with Source Intelligence, Newell used in-house processes to manage complex reporting requirements. They experienced low supplier response rates, and the initiative took time away from internal resources to perform their core responsibilities.
A Partner for Conflict Minerals Reporting
Director of Global Regulatory Compliance, Chris Sutton, knew that he needed to find a company that could act as a partner in their compliance efforts.

Newell Brands came to Source Intelligence to automate supplier outreach and increase response rates. They were looking for a turnkey platform with a user-friendly interface. With a significant community of international suppliers, they also needed accurately translated supplier communications. To increase supplier response rates, they needed more frequent outreach and multiple communication paths for suppliers.
Conflict Minerals Program Success
Since Newell Brands' partnership with Source Intelligence, they have reduced their conflict mineral reporting costs by 50 percent. Supplier response rates have increased by 20-25%, and responses from international suppliers have become more frequent thanks to properly translated communications and multiple paths for communication. Sutton and his team can now confidently provide the corporate team with information to report to the SEC.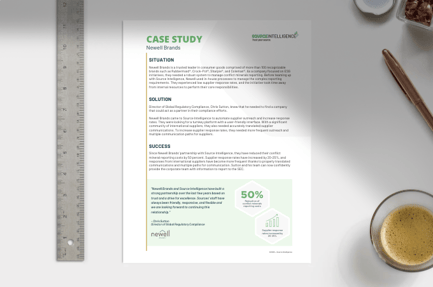 "Newell Brands and Source Intelligence have built a strong partnership over the last few years based on trust and a drive for excellence. Sources' staff have always been friendly, responsive, and flexible and we are looking forward to continuing this relationship."

- Chris Sutton, Director of Global Regulatory Compliance
Simplify Conflict Minerals Reporting
Conflict minerals regulations require companies in the United States and the European Union to report on conflict minerals used in their supply chain. Compliance can be challenging, as these regulations are always evolving and becoming more complex.

The Source Intelligence platform helps companies simplify conflict minerals reporting. Our program collects Conflict Minerals Reporting Templates (CMRTs) from suppliers, completes a comprehensive smelter analysis, and monitors supplier responses. The data is compiled into one concise, comprehensive report for data analysis.
Source Intelligence has automated solutions your team can manage internally, and the experts to provide managed services for your compliance programs. We provide businesses peace of mind by configuring solutions to ensure every part of every product is in line with regulatory standards.